Creating, customizing art
Senior Matthew McCutcheon sells personalized clothing
He scanned the room around him. It wasn't the class he was intending to join, but he still felt comfortable around the bottles of fresh paint, paper, scissors and clay. It was almost second nature to have a paintbrush in his hand. His passion for art grew and he eventually decided to take it seriously.
Senior Matthew Mccutcheon has been interested in making art since elementary. He sells and customizes shirts, sweatshirts, shoes and jackets to the customer's preference. His art is targeted towards any customer who is willing to purchase his items.
"I always liked to be able to customize my own stuff," Mccutcheon said. "I don't like to be the same as everyone else, so I started looking into more custom [items] since the stuff you find on websites isn't as detailed as I could get with [my own products]. So I found that you can buy paint for clothing and started saving all my money and started doing [custom items]."
T-shirts and designs that Mccutcheon makes digitally are uploaded on his website to be sold. When it comes to custom clothing, like shoes or jackets, he talks to the customer directly to find out what they want him to paint on and what design they want him to do. Depending on the detail, custom items can take from eight hours to a week to completely finish.
"There's the cheap combo pack or the expensive one," Mccutcheon said. "The cheap one is just basic acrylic paint which will be $30 and the expensive one, where I use good paint, which will feel better, look better [and] last longer is $50."
A close friend of Mccutcheon's, senior Hanssel Ortega, bought a sweatshirt with a digital design made by McCutcheon. The sweatshirt was around $30, not including shipping and tax. Overall, he was pleased with his purchase and looks forward to supporting Mccutcheon's art.
"Quality wise, it was pretty soft and I personally really liked it. Design wise, it was a little off, but I like that too," Ortega said. "It was a cool design. I feel like it was [overpriced] but I'm not bothered by it that much."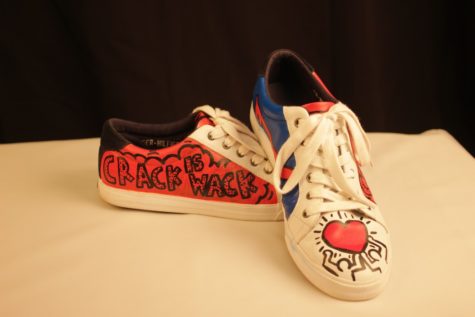 Junior Galilea Gonzalez stumbled across Mccutcheon's work through Twitter. He custom painted a jean jacket for her; the design was a light blue background with a girl in the bottom right corner and yellow flowers filling the empty space.
"I looked at his [Twitter page] once and I thought that what he did was really cute, [so] I [asked] him to do a design on my jean jacket," Gonzalez said. "I think that [the design] was really cool. I really like the designs, [because] I [asked] him to [paint] sunflowers and he made [them]."
Mccutcheon currently has a part-time job at Kohl's to help with the cost of supplies. He plans to be able to quit one day so he can fully focus on his career as an artist. The website he uses to sell his products does not cost him anything, so he plans to make profit off of his sales.
"[So far], I have sold two jackets, four sweaters and two t-shirts," Mccutcheon said. "But [I'm] always looking to expand. [I'm hoping] to be able to make a full-scale business, have my own studio and recruit people that will help me out with [making art]."
Leave a Comment