Review: "Love On Tour" is back after year-long wait
Harry Styles makes fourth stop in Dallas
A year after the pandemic postponed his original "Love On Tour," Harry Styles took the stage at the American Airlines Center for his sold-out show on Saturday, Sept. 11 in Dallas.
Despite the two-hour wait in the hot sun, doors to the American Airlines building opened an hour before the concert and fans quickly began to line up. Staff did an honorable job of taking safety precautions and ordered all attendees to show proof of vaccinations or negative COVID tests.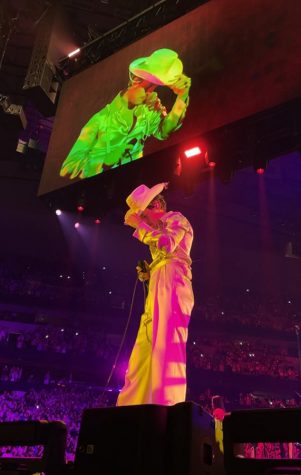 For the amount of people and limited space, the building was well ventilated and clean. Though, Styles himself reminded some fans who were in the Cherry/Watermelon pit to pull their masks up. The merchandise stand was a little overpriced but compared to his official website, prices were fair. 
Sing-songwriter Jenny Lewis opened for the concert in a silky blue bodysuit with flower prints and pink fringe. She created a sense of belonging and comfort with the crowd that built up the anxiety for the concert as a whole. 
As Lewis left the stage, fans were determined to not let the energy of the crowd die down. While waiting for Styles to appear, they lovingly shouted out the lyrics to One Direction's 2015 song, "Olivia." 
Soon enough, the lights began to dim and Harry Styles' band entered the stage in all-pink suits to the sound of Queen's "Bohemian Rhapsody."
When the tune of Styles' "Golden" played loudly and filled the air, Styles himself rose up from the center stage in an all-white outfit and filled the stadium with flashing lights.
After singing "Golden," Styles took the time to connect and interact with the fans. "I promise we will do our very best. Your job is to have as much fun as you possibly can. If you want to sing, if you want to dance, whatever you want to do, I challenge you to have as much fun as I'm going to have tonight. Please feel free to be whoever it is you want to be in this room tonight." 
But after the wait, those who attended the concert seemed to be content with the performance and energy Styles and his team created. No matter where fans were seated, Styles was directly in one's view. He took breaks to interact with the fans and constantly reminded them of his appreciation for their existence.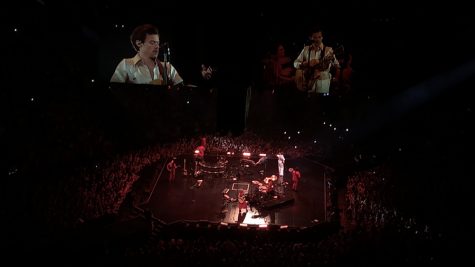 Styles sang "Happy Birthday" to two fans, Nikki and Laura, spotted in the crowd. When a sparkling, pink cowboy hat was thrown onto the stage, Styles tilted the hat down with a simple "yeehaw," to respect his Texan audience.
Styles started and ended the show with positive messages to create a comfortable and enjoyable atmosphere for all identities and ages.
"Over the last year…18 months, all of us have been through something collectively, and…every single person in this building has been through something individually," Styles said. "This is my favorite thing to do, and in the darkest times, thinking that one day I'll be back up here meant so much to me. Thank you so much for everything you did to be able to be here tonight."
Before wrapping up the show with his head-banging song, "Kiwi," he gave one last message that created a strong bond between Styles and the fans. "If the last 18 months have proven anything to me, it's that we really have to look out for each other. Let's just be nice to each other, take care of each other, take care of ourselves, don't let anyone tell you who you're supposed to be, don't let anyone tell you what you're supposed to do to your body, and let's have each others' backs and look out for each other, and if we do it, I think we'll be alright." 
Leave a Comment