Band to head to UIL
The Band That Marches With Pride to compete in region 2 area level meet
After receiving all 1's from the region 1 meet on Saturday, Oct. 16, the marching band will proceed to region 2. The marching band will compete in the UIL region 2 area level in Area C of the Mesquite Memorial Stadium this Saturday at 9:45 a.m. The routine is titled "To Set Sail."
"Every contest we've had this season has performed better than the last one," associate band director Alicia DeSoto said. "We are really looking forward to giving our best performance on Saturday."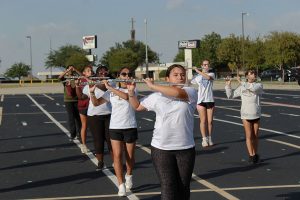 The region 1 stage is scored from 1 to 5, with 1 being the highest score, also known as superior. The school received all 1's from the three judges at region 1. The area level will be scored by five judges; three judges will score only on music and two will score based on visual/marching. Scores will be given out based on a rubric scale of 1 to 500, with 500 being the best. If the band makes it past the competition on Saturday, the band will proceed to the state competition in San Antonio beginning Monday, Nov. 8.
"I feel like I am more nervous because this decides if we go to state," senior color guard co-captain Deja Wilson said. "I have to worry about me, the time, my feet and the flag. So it's a lot of pressure."
The band practices after school from 4:15 to 6:30 p.m. in the parking lot outside Max Goldsmith Stadium on Mondays, Tuesdays and Thursdays, August through October. Once football and competition seasons are over, the band practices less. The band consists of percussion, brass, woodwinds and color guard sections.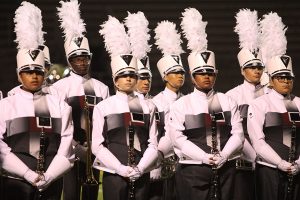 "I play clarinet and I've been playing for a little over five years," sophomore Alejandro Jaramillo said. "I really like music and my close friends are in band too. It feels really rewarding whenever we perform and do well."
Last year because of COVID-19 restrictions, only a limited number of students were allowed to compete. This year, all band members are allowed to participate in UIL competitions. 
"It is so rewarding to see all the hard work the students have poured into rehearsals come to fruition in the contest performance," DeSoto said. "It is so special to experience their joy and energy at the conclusion of an amazing competition run."
Leave a Comment