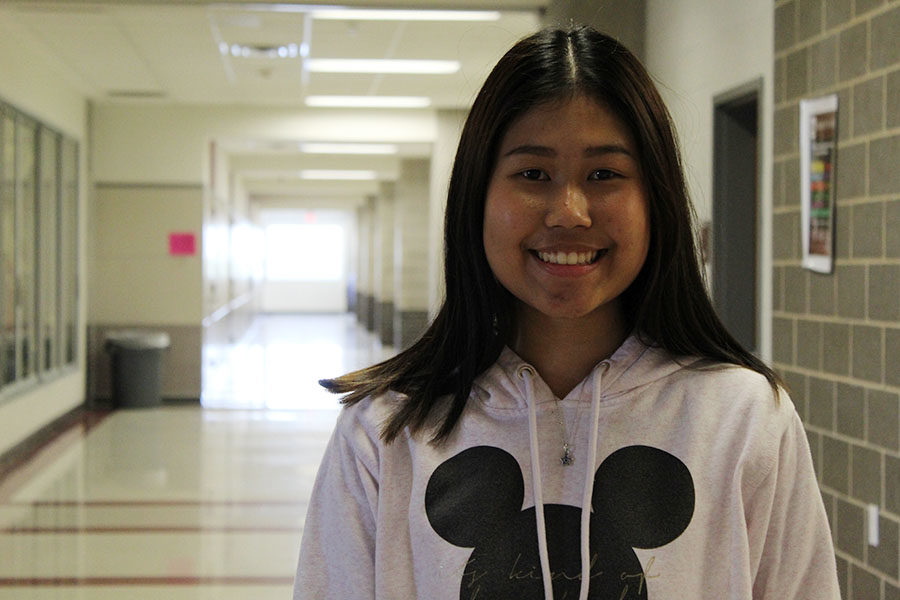 Exploring for new beginnings
Posters are taped on every wall. The option for being a foreign exchange student was heavily made known. The school announced there's a student foreign exchange program happening. She's surprised in the moment and thinks if she should take the given chance to journey and enjoy lifestyles in America.
Junior Artistaya Coomvan is a foreign exchange student from Thailand who took the opportunity to travel to explore cultures and amplify her learning in America. Comparing Thailand to America, Coomvan has realized the two countries aren't quite the same, but in spite of everything she has enjoyed being in America.
"At first I felt nervous, excited and scared because it was my first time coming here but now I got used to being here," Coomvan said. "In my city, there's a lot of tall buildings and it's not as clean as this place. I like everything, there's not a specific thing, I just love being here."
Being with her host family, Coomvan has noticed life without her parents and friends is not as easy as others may think. She now has to and do everything by herself without everyone to guide her along the way.
"I have more maturity," Coomvan said. "When I was in Thailand, my parents would help me but now I have to help myself and manage everything by myself."
Although being here is exciting for Coomvan, she also finds it challenging because she has to live without her parents, take care of herself and deal with transportation struggles.
"The most difficult thing for me is the transportation because I don't want to be bothering my parents to go take me somewhere since I can't drive," Coomvan said. "At first it was a challenge but now I got used to being here and it was a challenge because living without parents you have to take care of yourself."
By comparing the school days in Thailand to here in America, Coomvan has realized the school day isn't structured the same as it is here.
"[In Thailand,] we have eight classes per day," Coomvan said "We just sit in a classroom, like we don't move to other classes, and if we don't have science, we go to the library."
Even though Coomvan is a foreign exchange student, she adjusted to school easily. She didn't know anyone when she arrived and started to build friendships this year.
"I met Artistaya the first two weeks of school," junior Jirapach Supagamnerd said. "She's a nice girl with such a good personality and we became really good friends."
While being in America, Algebra teacher Kathi Polykandriotis hopes Coomvan uses this experience to her advantage.
"I hope Artistaya takes this this opportunity to learn much more and that all this will benefit her one day in her career," Polykandriotis said. "I think she has been able to see what the American culture is like."
Coomvan has achieved her dreams of coming to America where she was able to explore more of the world and experience new cultures.
"Being in America is my dream," Coomvan said "I think the life in high school is more fun so I decided to become an exchange student."