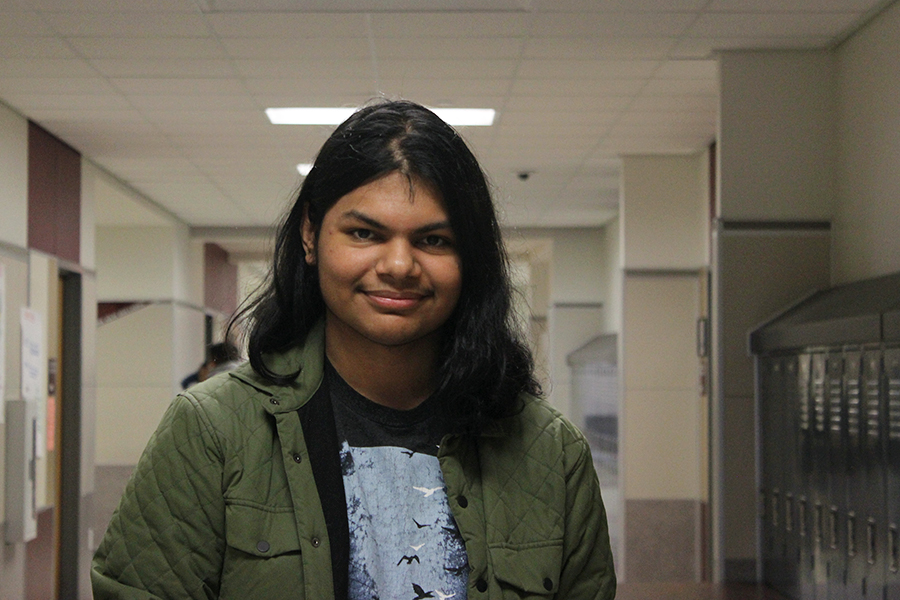 Senior Santiago Figuerora
Q: What does being recognized in the National Hispanic Recognition Program mean to you? 
A: "I guess it's basically I'm proud [to be] recognized nationally. It doesn't really feel different, I guess it makes me feel that I've done it. I think I'll have better chances of getting into colleges and universities. I just don't really think it's important."
Q: How did you find out? How did you feel? 
A: "At the end of the last school year, my counselor went to speak with me about the program I had to sign up for online. [They] said that if I sign up I'd make it and I wasn't really surprised when I made it."
Q: What did you do to help improve your test scores leading up to it? What does it take to get the award?
A: "I was in the PSAT team. I think doing the practice in the class really helped boost my score in general. I think it was getting a good score on the PSAT actual test that you take in the 11th grade so I think that is where that one class helped me."
Q: What are your college and career plans? 
A: "My dream is to go to the University of Chicago [but] I don't think that's very likely. I'm more likely to get into the University of Texas at Austin and I want to go into a computer program."
Q: What activities are you involved in at school? Anything outside of school?
A: "I'm in French club, environmental club and Mu Alpha Theta. I'm also in a video game design class at the career center." 
Q: How will this award affect your life/future?
A: "I guess it can give me a better chance at getting into my dream colleges and universities, not even my dream ones but just in general. It will really benefit me in the future and better access to education."
Q: What has been your biggest obstacle academically? Any specific class? How did you overcome it?
A: "English, lots of writing because I'm not the best writer. I [overcame it] by just practice and just having people critique your work because they always push me into a good direction."
Q: Who in your life has helped you reach this point? How did they help you?
A: "I would say my English 10th grade teacher encouraged me the most in my writing qualities and [was] very supportive and encouraging. [She provided] good feedback on my writing and made me feel confident in my ability. "
Q: What is your advice to others hoping to be National Merit Scholars?
A: "You just need to practice a lot and put some effort into the work you do."
Q: What class/outside of school tutoring prepared you the most?
A: "Like I said, the PSAT class routine just really helped me because they gave me a lot of work to do outside of school and even over the summer, it helped me strengthen my ability."
Q: Do you have any good study tips for the standardized tests?
A: "Take previous [SAT] tests and just study."