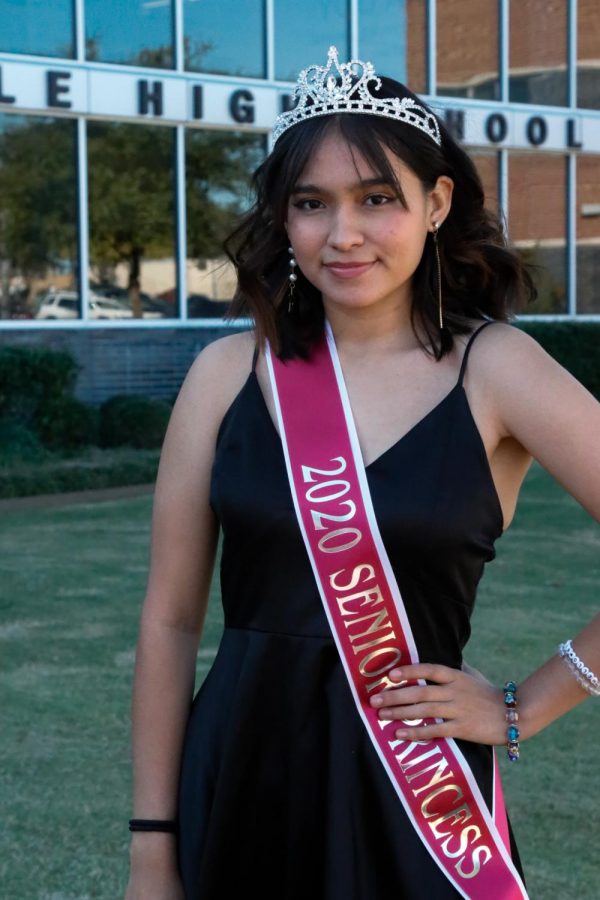 Princess Alicia Rivera Torres
Q: What is it like being on the homecoming court during the current pandemic?
A: "Currently, it's very weird just because we don't know what's going on. I [look back on] last year and [realize] we don't get to do as many things. But it's exciting. It's something new." 
Q: What does being on the homecoming court mean to you?
A: "Being on the homecoming court means representing the student body, just because I was voted on by the seniors. I honestly didn't think I was going to get [elected], but I'm really happy to be there and represent everyone. I'm living my 'Geek Charming' moment." 
Q: How did you feel when you found out you were on the homecoming court?
A: "I felt kind of shocked. I was talking to a friend earlier about how I didn't think I was going to [win]. I wouldn't have been upset if I didn't get it. I mostly did it because I wanted to try something new. But I did get it, and it was very happy." 
Q: Have you always wanted to be on homecoming court? Why or why not? 
A: "No, I didn't always want to be on homecoming court. I felt like if I ran, I would be sad if I didn't [get voted for]. But this year, I [told] myself I should run and no matter what happened, I would be happy with the outcome."
Q: How has COVID-19 impacted your senior year so far?
A: "A lot of the traditional events that we [usually] get to do aren't [being done] anymore and it's very sad. I'm trying to be optimistic because it is something new and hopefully something I'll tell [people] about when I'm [older]."
Q: Despite the circumstances, how will you make the best out of your senior year?  
A: "I think staying positive is the main thing because we're all questioning what's happening [and] when this is [going to] end. But we're all in the same boat."
Q: What are you most excited about regarding homecoming?
A: "I'm most excited about the reverse parade and all the pretty floats. I just think it'll bring back the spirit. Hopefully, our student body still has the same spirit as any other year, even though this year has had some different challenges. I'm excited to see what's going to happen [and] how everything pans out." 
Q: Who/what inspired you to get involved in homecoming? 
A: "What inspired me to be on homecoming [court] were my friends because they were all like 'Alicia, you should run!' At first, I wasn't sure if I wanted to run or not. But my friends and a Disney movie inspired me to run for homecoming court."
Q: Throughout high school, what were you involved in? What was your favorite activity you were involved in and why?
A: "I was in tennis, Student Council, HOSA, art club and Interact. So far, my favorite one has been Student Council because it's where I get to help everyone. We get to plan a lot of activities."
Q: What will you miss most about high school when you graduate? 
A: "I think what I'm going to miss most about high school is getting to know new people. I feel like making friends [is] harder as you grow up. Just having that connection with people. We're all [going to] go our separate ways but it'll be OK. We'll still be connected by the long maroon line."