Transforming print to fashion
Killough fashion design students make dresses out of newspaper
From down the hall, she can hear endless chatter and crinkling of paper. Fashion design teacher Valerie Nite walks through the hall from group to group to assess how her students are progressing. The smell of paint lingers in the hallway and scraps of newspaper litter the floor. Students work against the clock trying to bring their designs to life before the dreaded deadline.
Nite's students had the opportunity to design and make dresses out of newspaper by hand. Using newspaper, tape and anything students could get their hands on, they let their creativity run wild. The goal is to present their creations at a fashion show during block lunch at Killough on Thursday, Nov. 16.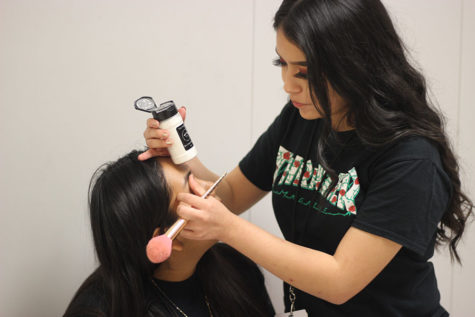 "The purpose [was] for students to practice the different design styles [our garments are made up of], " Nite said. "It also [allowed] them to go through the process from start to finish, conception to completion."
The idea struck when browsing social media. The assignment seemed simple and fun, yet challenging to complete. Ultimately, Nite decided to test it out with her students.
"I am in a family consumer sciences Facebook group and I saw this idea to do dresses out of newspaper and thought it would work well with supplies that are affordable and easy to gather," Nite said.
Her students had about a week and a half to measure their models and then sketch and fully create their designs from scratch. Challenging themselves, they designed the dresses and overcame obstacles thrown their way.
The project was an experiment that came with some disadvantages including the fragility of the newspaper and the inexperience students had with the designing and creating process.
"I haven't had any other practice; I can't even sew, for gosh sake," sophomore Emily Navarro said. "So my first time making a garment was a bit difficult because everything needs to be perfect and not tear [as I put it on] so I can able to walk in it, or if it's too heavy [I have] to try and add stuff to secure it."
"
I'm excited to show what my teammate and I have been working on for so long, [but] also be in it because I'll be the one in the fashion show showing my groups design."
— Emily Navarro
The students seemed to take the challenge earnestly and work to make it look as real as a fabric-made garment.
"I think mostly all of the groups have had one or more hurdles, but they have worked through them and kept going," Nite said.
One group went all out and successfully designed and created pants using newspaper. The head of the group, sophomore Amanda Lozano, was the one to bring the idea to the table.
"We had a design that wasn't attempted by anyone else out there [not only in the classroom but] in the world and we had to form it from scratch [with no reference], while figuring out how to make it to where it would be flexible and wouldn't rip," Lozano said.
The possibility of a fashion show wasn't proposed until teachers around campus grew eager to see the work done by students. Though minor planning details to the show are still a work in progress, students are excited to showcase the garments they have been working on.
"I'm excited to show what my teammate and I have been working on for so long, [but] also be in it because I'll be the one in the fashion show showing my groups design," Navarro said.
Leave a Comment