Kindling a bond with cars
Senior Avante Bond works as auto technician
As he walks through the door, he is greeted by his co-workers and the smell of diesel fuel. He clocks in and asks if anyone is waiting to get their car fixed. A co-worker tells him there are two people waiting, one needs an oil change and the other needs new brakes. He grabs his tools and starts working.
Senior Avante Bond enjoys fixing cars and currently works as an automotive technician at Sam Pack's Five Star Ford Lewisville. Being exposed to vehicles at a young age, he slowly developed a fondness for them. Bond enjoys helping others and can do so in this field.
"I started being around cars when I was 11," Bond said. "I took the auto tech class [at CCE] my junior year. During the summer I went to Universal Technical Institute and took the Ignite program and was in the top 5% of my class, but that's when it really started."
In the auto tech class, Bond developed the skills he'd need to become an auto technician. The class taught him not only about the physical aspects of a vehicle but also the technical side.
"
My favorite aspect is when you admire your work when you're finished after you've completed a task people say you can't do."
— senior Avante Bond
"It was fun but it's a lot of work," Bond said. "Sometimes it gets a little bit boring because you're stuck at a computer. Other times you go into the shop and you've just have to hope you don't get in trouble because [the teacher] will make you do computer work the entire day."
After spending hours memorizing information and putting what he learned to practice, he took tests to show how much he has learned and what information he has retained. Passing these tests proved he is qualified for a career in auto tech and helped him find a job in the field.
"My greatest accomplishment would have to be getting a lot of certifications from GM, Ford, Mercedes and Toyota," Bond said. "At a young age, I was able to gain all those certificates in a short amount of time and gain more knowledge. Maybe it will get me into a better shop sooner or later; if not, I'm still going to push myself to be better."
In the eyes of his friends, Bond is seen as someone they can rely on. Senior Bryce Baker and Bond have been friends for four years. Baker recalls Bond as being awkward when they first met but now sees him as a dependable friend.
"I can always count on him," Baker said. "I was sick a little while ago and he came to pick me up and took me to the hospital, without him I'd probably still be sick."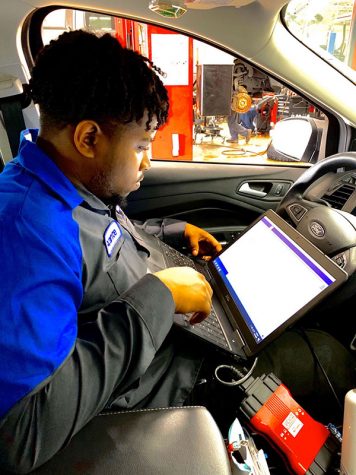 Bond works at at the shop with Baker. He is motivated by Bond to arrive at work and try his best every day.
"Without him, I probably wouldn't even go," Baker said. "He's what makes working there fun; he's the reason why I still go to work."
Bond is grateful to his auto tech teacher Doug Emery for helping him get the job. He always tries his best to meet the high expectations set by Emery in the class.
"He has a very outgoing personality," Emery said. "Avante is a very eager student, especially when it comes to learning about automotive technology. Being a technician will keep him challenged mentally and physically and that's what Avante needs to keep him from getting bored."
To Bond, what makes all the hard work and effort worth it is the end result. The feeling of accomplishment is what gives him the gratification for his labor. As long as there is more work to do, Bond will always be eager.
"My favorite aspect is when you admire your work when you're finished after you've completed a task people say you can't do," Bond said. "You look at what you've accomplished without having doubt in your mind that you couldn't do something."