Leaving behind fond memories
History teacher Bessie Alexander retires after teaching 26 years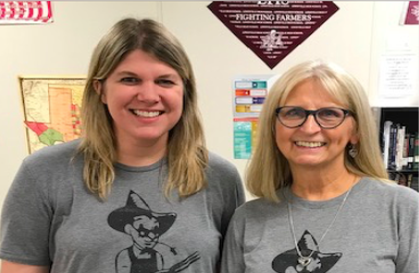 The bell rings, signalling the end of the school day. And the last day of school. Behind her black and white checkered desk, she smiles at her students, memorizing their faces with a hint of sadness in her eyes. One by one, her students line up by her door and she turns on Rod Stewart's "Have I Told You Lately" on her jukebox as she bids them all goodbye, telling each of them how much they mean to her.
After 26 years of teaching, history teacher Bessie Alexander retires from her job, but not in the way she wanted to. Because of COVID-19, she is not able to say goodbye to her past and present students in person this year. Now, she can only imagine how that last goodbye could've been.
"Saying goodbye at the end of the year has always been difficult for me," Alexander said. "But saying goodbye for [good], [I'm] not too sure how I would have handled that. It is very sad that I [didn't] have that opportunity. We should all realize opportunities are not always available and should not be taken for granted. We should seize upon each day as if it were the last. Make it memorable and worth-while."
With the optimism and positivity she puts into her classroom, Alexander has touched the hearts of her students and colleagues. Every year, she makes it a goal to create strong bonds with all her students and wants them to know she's always there for them, even when she is no longer their teacher.
"So many teachers are like [Alexander]," StuCo adviser Alison Stamey said. "She loves teaching curriculum in fun ways, and keeps contact with former students, guiding them through adulthood."
Due to COVID-19, her students are saddened they won't be able to give her proper farewells. Alexander's former student, senior Tristin Canon, met her during his junior year. And since then he's formed a close bond with her and makes it a priority to stop by her room daily.
"I'll miss seeing her every day," Canon said. "I just want to thank her for all the positivity she put into my life and being there for me when I needed her, [as well] for being such an amazing teacher."
Throughout her career, Alexander has seen the way teachers have changed their ways of teaching to appeal to new students. Even with those changes, she stays true to her style of teaching with adding a spice of today's modern technology.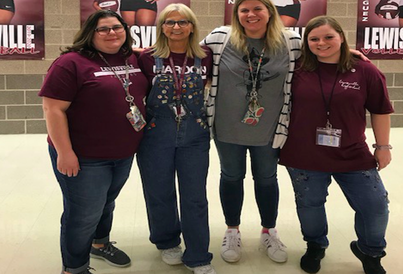 "I would describe my time at LHS as one of growth," Alexander said. "I experienced many changes over the years. No telephone in the classroom, no TV, projectors had to be signed out of the library and wheeled into the classroom, no computer, no such thing as email. [I] actually had to attend a faculty meeting to learn about this new thing called email, but was told not to worry because only the principals would be getting that."
As Alexander's time as a teacher comes to a close, she hopes to send a message to all of her students. She wants them to know she loves each and every one of them and she is thankful to be part of their lives.
"I want each of them to always remember the last thing I may ever say to them is 'Have I told you lately that I love you?'" Alexander said. "I have bittersweet feelings, one of fulfillment knowing I did all I could do to help them make good choices in life [and] do the right thing. Now they have all grown up while I wasn't looking. It's sad because I know some I will never see again. They will never know just what an impact each made [in] my life.They brought me joy and reason for getting up each day. They made me feel needed."
View Comments (1)