HypeBeast entrepreneur sets goals
Senior Jackson Reed runs five-figure business
From selling slightly-used Supreme underwear to jerseys signed by both Michael Jordan and LeBron James, senior Jackson Reed has created his own business in the 'HypeBeast' industry. It all started one day when he was watching YouTube videos in his room. He didn't know how easy it was to be an entrepreneur.
Reed now sets goals to meet with other social media influencers and creates giveaways on the app TikTok. Later on in his career, he wants to start collaborating once a week with big creators. All he initially needed was starter money to launch his business, and now making and saving money is his primary focus.
"I started my business because I really didn't have a way to afford any high-end shoes or clothing," Reed said. "I used the profits to buy my own clothes and shoes that I wanted ever since I was little, but now since [the business] has grown so much, I'm putting [money toward] my college. It's also a really good way to pay for things I need and want."
Even though he's still in high school, he's not letting that stop him from creating big goals for his future as an entrepreneur. Always looking ahead, he's mapped out every little detail in his road. He wants to open up a store in Melrose, California praying to get his name out there.
"Yeah I see myself going somewhere in the future," Reed said. "I'm actually moving to California in a year to extend my business even bigger by creating more profit margins. College is really my ticket to go to California because if my business grows to the point where I make more money on my own, then I won't really need to go to college anymore and I'll just focus on myself."
Starting a career while still being a student can pose countless challenges. Mainly working on his business alone, there have been times where he felt stumped. When this happens, he takes action by turning to school clubs and organizations for assistance.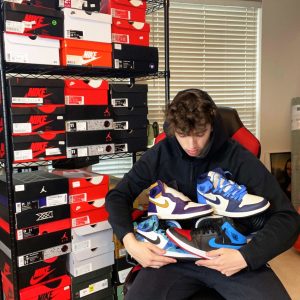 "I think every student, every entrepreneur, needs a cheerleader," entrepreneurship club sponsor Valerie Cooper said. "They need someone that believes in them, so on the days it's hard or challenging they know someone out there is believing in them. 
Reed's participation in the entrepreneurship club has helped him overcome the hurdles of being a business owner. There he met the president of the club, Atrion Sorrells, and started a new friendship.
"I hope he continues to branch out [and] innovate," Sorrells said. "[I hope he continues] expanding the brand, continuing [going] above the horizons and also just using his platform he has right now."
Looking into the future, Reed wants to know he can make a living without worrying about if he's going to be able to pay off loans he borrowed. All he can do is hope for the best and continue following his dreams into being a HypeBeast entrepreneur. Making connections with other social media influencers was one start, now he's making his way to being his own leader.
"Probably one of my biggest goals is to reach $100,000 in profits, which I can probably make within a few years," Reed said. "If I was able to reach that margin, I could probably get on Entrepreneur Magazine, which would really help out my business and social media pages."