Overcoming a life-altering disease
Senior Alexa Vargas shares story in honor of Diabetes Awareness Month
It's 3 a.m. when she awakens to check her blood sugar, a process she has to repeat daily to ensure she is healthy. She goes back to sleep until it's time to wake up for school. Once again, she checks in on herself and gives herself insulin. Upon arriving at school, she checks her blood sugar for a third time, just to be sure it isn't too low or too high. Throughout the day, she continues this process, along with the intake of insulin. 
Senior Alexa Vargas was diagnosed with type 1 diabetes on Sept. 9, 2012, at the young age of 9 years old. Type 1 diabetes is often confused with type 2 diabetes, which is caused by a poor diet. Type 1 diabetes, however, occurs when the pancreas doesn't produce enough insulin. Despite her condition, Alexa continues to persevere in school and as a leader in color guard and band. 
"
On my first night home, I was infuriated and frustrated. I felt like 'Out of everyone, why me?' It was a lot of self-blame."
— senior Alexa Vargas
"I was in the hospital for about a week [when I found out], and I had no idea what it was," Alexa said. "I remember a doctor sitting me down and saying 'So you're diagnosed with diabetes.' She asked if I [thought] I could be cured, and I said yes because I was too young to process this is a life-altering disease. I thought I would go home and everything would be normal. I felt confused and frustrated because I was too young to process how the human body functioned."
The night before she was diagnosed was an incredibly scary time for her family because they had no idea what was wrong. The drowsiness, dehydration and pain marked a pivotal point in Alexa's life.
"The night before [she was diagnosed], Alexa was sitting in her room balled up on her bed crying because she was in pain," Alexa's sister, junior Kamilah Vargas, said. "Anytime I'd go check on her, she would ask for more water. She was really thirsty, but we weren't supposed to give her a bunch of water. She couldn't stay awake, and she didn't remember anything she was saying to me. The doctors said if we waited a minute longer [to take her to the hospital] she could have died. It was really scary to see my sister in that position."
In the beginning, Alexa felt defeated. Her everyday habits were restricted due to her diabetes. As Alexa adjusted to a new reality, she often pitied herself. 
"Understanding what was going on was difficult," Alexa said. "At first, I had a lot of diet changes because I was on a 45-carb diet, which is around a banana and a half for every meal. I remember at night I would usually have bread or milk and cookies, but I wasn't allowed to have that [anymore] because of my diabetes. On my first night home, I was infuriated and frustrated. I felt like 'Out of everyone, why me?' It was a lot of self-blame."
In spite of this, she never allowed herself to get defeated. Instead, Alexa used her 'disability' as an opportunity to spread awareness. In fourth grade, Alexa spoke about diabetes in front of her entire school.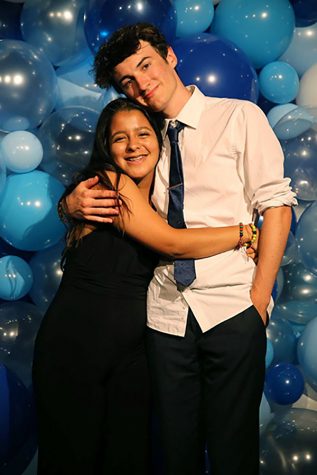 "In elementary school, when I first got diabetes, I gave a presentation to everyone in my school about what diabetes was," Alexa said. "We did a fundraiser and raised $1,500 to donate to the Juvenile Diabetes Research Foundation." 
Maintaining a balanced blood sugar level is Alexa's main priority. If Alexa's blood sugar is too low or high, she could run the risk of fainting. Spending a vast majority of her days in the nurse's office, nurse Alisha Yerganian has become like a best friend. 
"My every day is controlling my blood sugar and making sure I'm in a stable place to do everything I need to do," Alexa said. "My blood sugar will affect my mood and how I process things. If my blood sugar is low, I will process things a lot slower and I'll be confused and dizzy. I have to put that above everything else because if my blood sugar is low, I have to leave class for up to an hour."
Alexa had to learn to adjust to the constant questions from her peers. She has also learned the importance of prioritizing her health, no matter who is looking or what task is going on in class, Alexa puts herself first.
"[Diabetes] changed my morals," Alexa said. "I have to unapologetically be myself, and not care what other people think. Even if it's a minor inconvenience to them, this can be life threatening for me, so I have to do this."
Alexa's best friend, senior Ammar Ali, recognizes how diligent she is regardless of her restrictions. He looks up to the effort Alexa puts into school and color guard.
"Despite how much diabetes limits her, she is still hard-working and determined," Ali said. "She [managed to become] this successful even with diabetes limiting her. Her work ethic is very admirable, and she makes me feel like I have to step it up."
Despite the countless obstacles, Alexa actively seeks to be better and co-exist with the limitations. 
"
I have to unapologetically be myself, and not care what other people think. Even if it's a minor inconvenience to them, this can be life threatening for me."
— senior Alexa Vargas
"Because I am a leader [in color guard], it can be kind of [unfortunate] to be sitting out on the sidelines," Alexa said. "This [causes] me to miss what I'm doing in [color] guard, a few reps or practice [as a whole]. It requires me to have to pick up the slack and learn everything by myself."
Along with color guard, one of Alexa's biggest passions is insulin for all, a campaign advocating for affordable healthcare. Insulin for all is a campaign that fights for affordable insulin.
"I haven't had difficulty [accessing insulin], but I have friends who have," Alexa said. "I've had friends who've run out of insulin, and I have given them insulin because I have a surplus of it."
Alexa's endocrinologist introduced her to Camp Sweeney, a camp for diabetics. The camp provides her the opportunity to meet and relate to others like her. She feels a sense of community knowing she's not alone in her struggles. 
"[At] Camp Sweeney we do almost nothing diabetes-related," Alexa said. "It's a regular summer camp. We do normal activities, like hiking, canoeing, horseback riding and swimming. [The difference is] everyone there is aware of [the] disease you have."
Influenced by her disease, Alexa strives to be a lawyer and continue to advocate for diabetics. Insulin for all is something Alexa wants to make a reality. She is incredibly grateful for the support given by the diabetic community and continues to mirror the same energy. 
"In my lifetime, I definitely want to make a change in the diabetic community because it's given me so much, [and] I want to give back," Alexa said. "I can make a positive change in the world. I want to make insulin accessible for everyone."
Leave a Comment