Fighting fire with passion
Senior Will Sparks prepares for career in firefighting
As he puts on his firefighting gear, he prepares to train vigorously for hours on end. He practices cutting through roofs with a chainsaw and spraying a water hose, so he's prepared for a real fire. Every day is a step closer to a professional firefighting career. 
Senior Will Sparks is a part of the dual-credit firefighter program paired with North Central Texas College (NCTC). Influenced by a family member, Will has been in the firefighting program for a year and a half.
"I decided to do it because I like helping people," Will said. "It's a great career with [positive] benefits, and my cousin was a battalion chief in Denton."
"
[I was] inspired by 9/11 and hearing about the 343 firefighters who died, that just really put the fire in me to pursue this career."
— senior Will Sparks
Will's goal is to be a role model for the public. He wants to carry on the legacy of the firefighters who died being heroes, saving others.
"[I was] inspired by 9/11 and hearing about the 343 firefighters who died, that just really put the fire in me to pursue this career," Will said.
Along with this program, Will has obtained other knowledge and experience through outside training. Will's dad, David Sparks, exemplifies how hard Will has worked toward his career.
"He's learned both the knowledge and training of the profession more and more as the past year and a half has gone by, be it live training at Denton Tower #7 in full gear, extrication demo training, and knowing what to do in various situations," David Sparks said.
Due to the firefighting program, Will feels fully prepared and honored to be able to start his career after graduation. All of the consistent rigorous training is worth it for Will.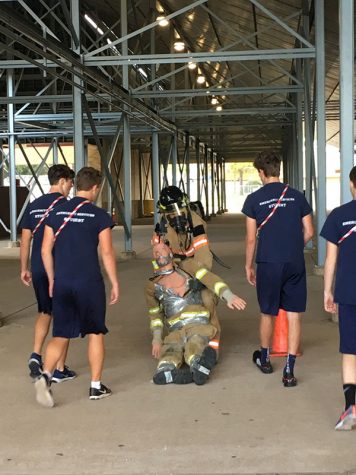 "[The program] has given me an opportunity of a lifetime to become a certified firefighter right out of high school," Will said. "I have learned how fire moves through structures, how to read smoke, how to extricate someone out of a vehicle, and how to actually fight fire."
Not only has he learned about how to be a successful firefighter, but Will has also gained life skills that will benefit him outside of his career. Will feels like a better person because of his role models. 
"[My chiefs] have really shown me the true nature of a firefighter, the pure compassion to help others, the never quit or give up attitude, and to always respect others even if they don't show respect back," Will said. 
The firefighting program provides students real-life experiences on what it's like to be a firefighter. Another student in the program, senior David Alvarado, describes it as a test for the real thing, foreseeing students out of their comfort zones.
"Will showed commitment throughout the year by always showing up the next day," Alvardo said. "No matter how hard the workout was or how difficult training was, he consistently gave his full effort and never gave up. Will definitely will end up at a great department doing great things."
David Sparks accentuates the need for people like Will to get involved in services like firefighting. He believes those who do are honorable.
"First responders are needed more than ever," David Sparks said. "Not every kid is suited for college. They need options. This is a noble trade, a highly-respected profession, and I hope more kids get involved, not just in Texas, but around the country."
Leave a Comment