Review: 'The Slow Rush' gives fans groovy vibes
Tame Impala's return to music scene shows strengths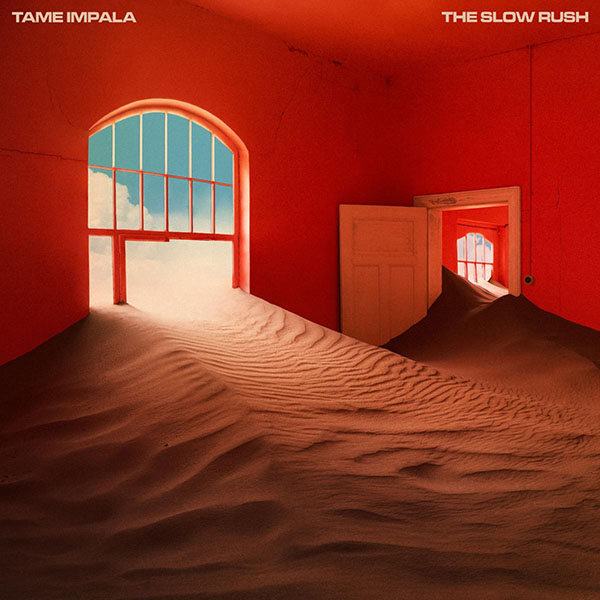 Four years after his breakout album, "Currents," was released, Kevin Parker's alternative-rock project Tame Impala released its latest record, "The Slow Rush," on Friday, Feb. 14. Returning with the same wistful vocals and synth-heavy instrumentals Parker is known for, the album upholds consistency with the rest of Tame Impala's discography.
The album carries an '80s tone throughout, keeping an upbeat and groovy sound in each song. Tame Impala chose to focus on appealing to the party scene with funky instrumentals, making each song worthy of a good dance session.
Though Tame Impala's sound works well for the act, too much of anything can have its cons. Songs such as "Tomorrow's Dust" provide a pleasing break from the synth-filled monotony with a drum-focused instrumental track. "Instant Destiny" also provides a shift in tone from the rest of the album with its smoother, relaxed feeling.
One of four singles, "Borderline," is a standout song on the album. The funky beat and catchy chorus serve the song well. Its faster pace and variety in lyrics makes the song memorable and earns a spot on listeners' heavy rotation. "Borderline" is comparable to "The Less I Know The Better" in the way both songs represent the pinnacle of Tame Impala's sound.
Too often, fans felt as if certain songs had filler sections of instrumentals that could have been made into its own song. On tracks such as "Breathe Deeper" and "Posthumous Forgiveness," the songs should have ended after the fourth minute, but continued to drag on. This became a nuisance because it felt like Parker was trying to fit too many concepts into one project.
"One More Year" showcases what Tame Impala is best at: multi-layered audio mixing and enticing lyrics. The background on the track is the most unique on the album, with reverb vocals hauntingly singing "one more year" in the background.
Throughout "The Slow Rush," a wide variety of topics are covered. Parker shows great maturity in the lyrics, spending a majority of the album looking back on his life and relationships. "Is It True" and "It Might Be Time" explore Parker's insecurities in his love and career lives respectively, showing depth in his writing skills. Both songs boast catchy choruses and bass lines, allowing them to become classic hits.
Overall, the album earns a 4 out of 5 star rating. Though the length of the songs can make them blend together and seem insignificant, when listened to separately, each song shows what Tame Impala is truly capable of. The variance through the lyrics' tones and perspectives on each topic in the album gives the audience a vast amount of material to ponder to while the synth-filled beats play in the background. "The Slow Rush" is likely to go down as one of the strongest alt-rock projects of the 2020s.