Review: 'Half Written Story' dives into heartbreak, lack of trust in relationship
Hailee Steinfeld releases part one of new EP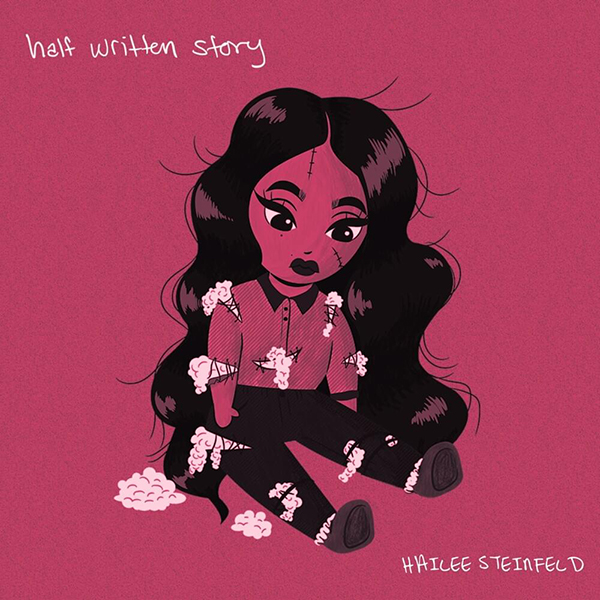 Actress, singer and songwriter Hailee Steinfeld released her second EP, "Half Written Story," on Friday, May 8. It is the first half of a two-part EP, in which the second half will be released in the summer. In the EP, she opens up about her struggles from her past relationship. It leaves fans to speculate whether the EP is about ex-boyfriend Niall Horan as it's believed he cheated on Steinfeld. She wanted to open up with her fans about her personal life, in order for them to understand how tough a break up can be.
The album starts off with the single "I Love You's," showcasing a chill upbeat melody with dark vocals. As the song continues she shows vocal control and when it gets to the bridge the melody changes to a trap R&B melody. Although the production itself could keep the listener invested, the lyrics are truthful and well-written as she describes she doesn't want to hear the words 'I love you' anymore. The lyrics "I don't want words that mean nothing," simply confirms the fact that the phrase 'I love you' is overused in everyday life and has lost its meaning.
In "Man Up," the listener will have a laugh as the track gives off fun vibes and includes interesting parts with autotune as this is a tremendously petty song. Even though the production is simple, the flow of the song as she sings and raps with little to no care makes the listener hooked because it's vastly different from her past music. The main protagonist of the song were the lyrics because they clearly diss an ex-boyfriend as she states "My brother hates you, my mother hates you, my father and sister too, wait I don't even have a sister but if I did, she'd hate you." This shows she knows her worth and could care less about the guy because he wasn't worth her time.
The final track "Wrong Direction," which is the only ballad, is filled with immensely heartfelt and emotional lyrics like "I don't hate you, no, I couldn't if I wanted to. I just hate all the hurt that you put me through," "I just wanted to believe that you were out sleeping alone" and "Everytime you burned me down don't know how, for a moment it felt like heaven." Throughout the song, she talks about how she blames herself for letting him play her because she knew he was cheating, she just didn't want to believe it. In an interview, Steinfeld described this track was difficult for her to write simply because she was worried about performing it because the song is extremely personal.
With the unique qualities of all five tracks, the lyricism, rhythm and melody complimented the vibes of the songs perfectly. Steinfeld did a wonderful job on keeping listeners hooked. A factor that was interesting was the amount of autotune used since her voice is extremely beautiful making the EP deserve 4.6 out of 5 stars. As fans wait for the next part, they wonder if Steinfeld will be able to exceed expectations from this EP.
Leave a Comment