Review: 'Midnights' leaves fans emotional, awestruck
Taylor Swift's new release gives insight into never-before seen side of herself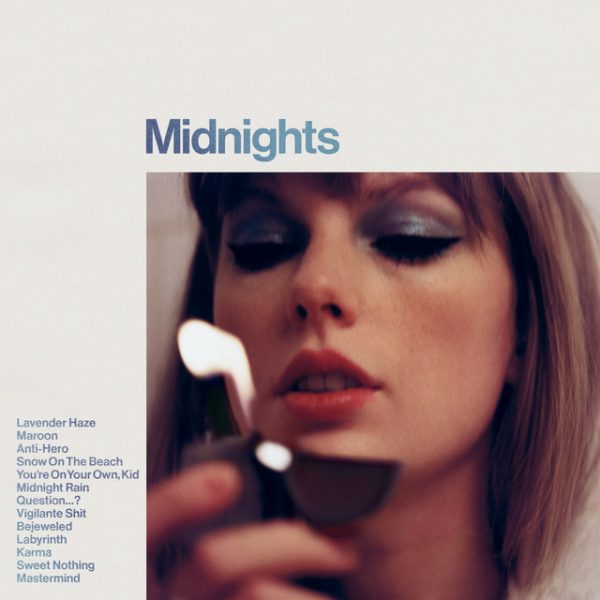 Taylor Swift released her 10th studio album "Midnights" on Oct. 21. The former country singer, turned pop sensation, had Swifties rushing to stream her album at midnight. However, it's not a Taylor Swift album without some madness. Due to the anticipation and excitement of her new album, the streaming platform, Spotify, crashed. Taylor Swift surprised fans by releasing a "3 a.m." edition of her "Midnights" album, of course, at 3 a.m. The "3 a.m." edition includes an extra seven songs, adding to Taylor Swift's iconic number of 13 songs on the original album.
Taylor Swift announced the upcoming release of her album on Aug. 28. at the VMAs while she claimed her award of 'Best Video' for her song All Too Well (10 minute Version) (Taylor's Version). While announcing her planned release for her album, Swift stated "I will tell you more at midnight," giving fans an unexpected teaser for the album's name. The 'Midnights' album is inspired by "The stories of 13 sleepless nights scattered throughout my life," Swift said. 
"Anti-Hero," one of the well-favored songs on the album, was the only song released with a music video. The music video has many Swifties finding easter eggs hinting at her past, her persona and her biggest fears. It is an intense song diving deep into Taylor Swift's insecurities and her persona the public expects her to live. "Anti-Hero" is one of those powerful songs worth screaming in the shower, or even at 3 a.m. when having a breakdown.
"Bejeweled" is a great song to dance to in your room at midnight. Though it's an emotional song about being underappreciated by your partner, it's about knowing one's self worth. The lyrics "Don't put me in the basement when I want the penthouse of your heart," fans think it's a reference to her past relationship with DJ Calvin Harris. The two split as Taylor Swift constantly felt disrespected and minimized in the relationship. The chorus, "Best believe I'm still bejeweled when I walk in the room I can still make the whole place shimmer," is Taylor Swift beginning to do what she felt was right and end the relationship. Possibly hinting to when she danced with Tom Hiddleston at the 2016 Met Gala while she was still dating Calvin Harris. 
"Labyrinth" is the 10th track on the album. It's a song about healing from a broken heart and swiftly finding love again. "Labyrinth" is one of the softer, more serious tracks on the album, with the phrase, "Oh no, I'm falling in love again" repeated throughout the song. It shows Taylor Swift's fear of falling in love too fast. In one of the later verses in the song, Taylor Swift compares her fear of elevators and quickly falling in love, "You know how scared I am of elevators. Never trust it if it rises fast, it can't last." Swifties believe Taylor Swift wrote this about her relationship with her fiancè, Joe Alwyn, as the two started dating a month after her breakup with Tom Hiddleston.
"Glitch" is another bonus track; it's more of a personal and meaningful song about an unexpected relationship, possibly dedicated to Joe Alwyn. The two allegedly met at the 2016 Met Gala, which they started dating shortly after. The first verse in the song "We were supposed to be just friends," referencing when they had their first encounter at the Met Gala, while Taylor Swift was in a relationship. A verse in the middle of the song, "But it's been 2,190 days of our love blackout." 2,190 days is roughly six years, which is how long the couple has been dating for. As of Feb. 2022, the two have been engaged. The chorus of the song is "The system's breaking down. I think there's been a glitch." Swifties assume is a reference to Taylor Swift's past relationships not working out, and the glitch referencing her healthy relationship with Joe Alwyn.
"Dear Reader" is the last song on the album, and it is one of the more retrospective tracks Taylor Swift has made. Though she has been making music for 18 years and most of her songs have deep meanings behind them, not all of them actually are sunshine and rainbows like they may seem. Some grew up listening to Taylor Swift, to her empowering songs, and to her relationship problems. So, hearing  "Never take advice from someone who's falling apart," in the chorus is not something that Swifties want to hear. Especially in the verse before that, she gave everyone a mouthful of advice. In the end, it's a gentle reminder that Taylor Swift is not any less of a human than anyone else is. 
Overall, the "Midnights" album deserved all the hype it received; it was even worth Spotify crashing. Per usual, Taylor Swift never disappoints. From her more energetic songs to her rather sincere songs gave the fans an all-around bop. The "Anti-Hero" music video was the cherry on top the album needed. Taylor Swift has opened up to her targeted audience more than ever while still making it all catchy. Therefore, this album deserves 4.7 out of 5 stars.
Leave a Comment