Column: Saved by music
'I don't think I knew it then, but unintentionally, I made a promise to myself that I was always going to seek this joy in music.'
If I close my eyes, I can still see it.
A tiny version of myself, dainty little hands wrapped around the microphone my parents connected to our stereo.
This stereo was the world to me. A small little world I lived in, yes, but I adored every bit of it.
My mom put the CD in and I giggled.
It was showtime!
My mom walked away from me with her camcorder in hand. I smiled wide at her, my biggest fan. I couldn't stand still because the concept of standing still simply doesn't exist when you're 3.
She turned on the camera, her finger hovering over the button to begin recording. As soon as I heard the music on the stereo, I began singing my little heart out.
In that moment, music was all I knew.

---
At the age of 3, I already knew music meant everything to me.
I didn't know the alphabet or how to use a pair of scissors yet, but I knew what music was and it made me feel alive.
It felt like warmth.
It was happiness. Pure happiness.
I don't think I knew it then, but unintentionally I made a promise to myself that I was always going to seek this joy in music.
Ever since that day, I've lived up to that.

---
I grew up, but continued to be the little girl who sang annoyingly around the house. All through elementary school, music class held a special place in my heart. Whether it was choir practice after school, playing with xylophones in class or hearing the incomparable melodies of old composers, I fell in love with every bit of it.
When middle school came knocking at my door, I replied with, "I wanna play violin!"
My mom put a check mark next to the word 'Orchestra,' beginning a brand new chapter of my life.
Suddenly, the world was a lot bigger than the stereo I had at home.

---
My world was no longer the tiny stereo that sat at home; it was my violin. The world suddenly expanded and now it was the size of my middle school orchestra room.
This was the only room that mattered to me. Being in this place felt like everything in my life made sense, like this was exactly what I was made to do.
This room is where I laughed, where I cried, where I begged my orchestra director, Mrs. LaLonde, for new music because I had to maintain my playing abilities.
This is where I spent my final days of middle school, desperately trying to perfect every note before I performed my audition for high school orchestra.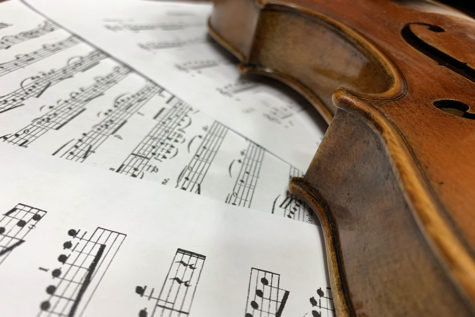 This is where I stood in Mrs. LaLonde's office, talking to her, afraid that I hadn't done enough to prepare for high school orchestra, worried that I simply was not enough.
This is where I discovered that my efforts had been enough, that I had earned a place in the non-varsity orchestra, a terrific place to be for an incoming freshman.
This is where it all came together, where life made sense, where music was made: in my middle school orchestra classroom.
Although I didn't tell her when she handed me my director's award, Mrs. LaLonde changed my life. Orchestra changed my life.
And to think it all started because I was given a yellow sheet with electives. All because I checked off a box next to the word 'Orchestra.'

---
I'm older now, but the love in my heart is equally as present as it was on my first day of orchestra.
I have the opportunity to make beautiful music every single day, to laugh with friends in rehearsal when we play an out-of-tune note too loudly, to listen to my director's encouraging words of wisdom. And I wouldn't have it any other way.
Music is the foundation of my life. It has been since I was 3, but orchestra has certainly solidified that foundation. Orchestra opened my eyes up to an entire new world, a world I didn't know existed. A world in which music tells stories, makes you laugh, makes you cry and makes you feel alive when you think you're falling into a void.
Orchestra goes so far beyond being merely an elective and it doesn't just end when you step out of the classroom.
Music is everywhere we look, but programs like orchestra give us the clarity and understanding to see why it's necessary.
Programs like orchestra are a demonstration to students that their value is not defined by academics. Students are first-hand witnesses to the realization that they are not a number, but musicians and artists. Education goes further than pencil, paper, desks, and a white board filled with equations and facts that require memorization. Music is a learning experience, too.
Music is a necessity.
Music saves lives.
And as the famous saying goes: when words fail, music speaks.
Leave a Comment