Two hours before the first pitch, I am among the first of 40,000 strong who will fill Globe Life Field. The advertising, rally towels and tickets all read why this game is so important, but to me, it hasn't hit yet. The Texas Rangers and Arizona Diamondbacks were both expected to be finished for the season over a month ago, yet despite the fact I had watched nearly every inning the Rangers played in that last month, my mind still struggled to grasp what I was really watching tonight.
My dad and I walk around the concourse, taking the ballpark in for the second time this year. We order footlong "jumbo" chili dogs, having to eat them with a fork and knife because we underestimated what a footlong chili dog actually entails.
Then, we find our seats, up in section 316, a ways down the right field foul line. To my right my dad, to my left a stranger who I'll call Nate. Nate was a hype man since the team introductions; his blood alcohol level might have had something to do with his emphatic nature, but whatever it was, it resonated with me as a fan. He would be my best friend tonight (sorry Dad, you're a Dodgers fan).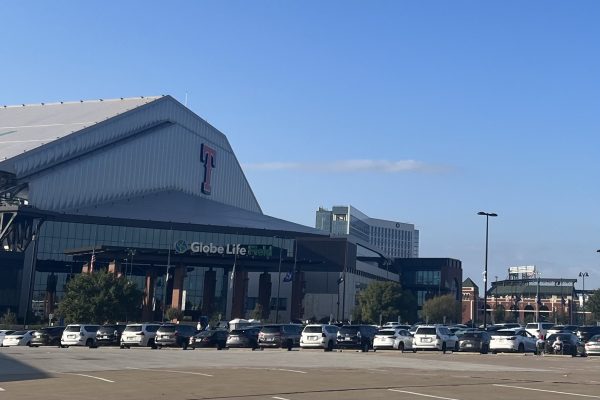 Before I knew it, there weren't another two hours, and I wasn't just at another baseball game. George W. Bush was throwing out the first pitch, although his days of throwing clean strikes from the mound were now beyond him. H.E.R. was singing the national anthem, invoking the same chills it does every time I hear it performed. Rangers pitcher Nathan Eovaldi stepped onto the mound, and only now had my mind put it all together. 
This was Game 1 of the World Series, and I was going to be a part of it. 
After Eovaldi retired the Diamondbacks' side and the struggling Marcus Semien started the Rangers offense with an out, Corey Seager was up to bat. "Good things happen when he's at the plate," I said to myself for the first of a few times tonight. Seager walked, but it rang true.
Rangers 2, Diamondbacks 0. Nate and I had shared a pair of hugs as I got to know my emphatic–and eventually drunk–seatmate. The only thing Nate would miss all night was the first stadium sing along: "Higher" by Creed, whose songs had become an anthemic driving force throughout the magical run to the Fall Classic. It was all Texas, as perfect of a start as any of us could ask for. 
One inning later, that energy drained. It started with a misread drive down center field. The Snakes had finally reached a base. They followed up with a few more hits, then points, and by the time the Rangers could answer, the lead, the atmosphere, the comfort was long gone. 
End of three, Rangers and Diamondbacks tied at 3. All initiated by No. 3, Leody Taveras unable to reach the Diamondbacks first hit. 
Anticipation became tension, then desperation to see the Rangers show any signs of life over the next five innings. The stadium definitely wasn't silent, but the sound was muted. The Snakes continued to find openings, scoring another two runs as the game turned into a feverish nightmare. The scariest part? Twice now, good things hadn't happened when Seager stepped up to bat.
All of a sudden, it was the bottom of the ninth inning. Rangers 3, Diamondbacks 5. Those who had given up hope were gone by the eighth, "hopefully stuck in traffic" as Nate put it. But we had spent upwards of $800 per ticket, not willing to go home without our money's worth. 
Taveras led the inning off with a walk, followed by another out by Semien. Seager was up to the plate. My dad, who has an uncanny ability to get even his most outlandish predictions right, made the call. This was the moment. It had to be.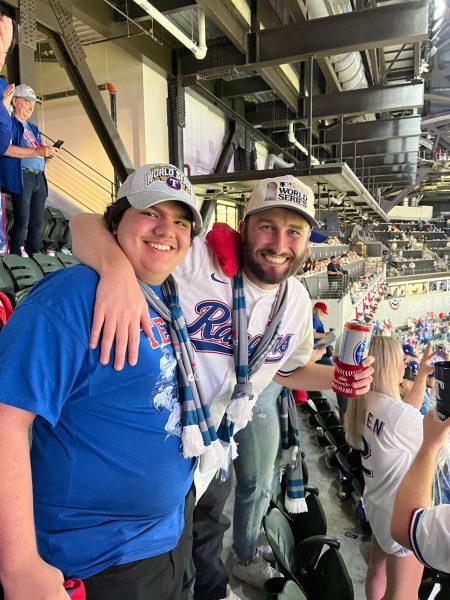 Seager swung immediately. 418 feet, into the upper deck. Globe Life Field was alive once again, loud as it had been all night and completely on their feet. Nate, nearby guys and I were jumping around like kids, my Dad celebrated another prediction, and even Travis Kelce, who had no real reason to be here and had an astonishing quarterback on his own team, couldn't believe it. This was a dream, and we had fought to stay asleep to not leave the comfort of this place.
Bottom of the 11th inning. Adolis Garcia, the player who had been ignored by 29 other teams before the Rangers reclaimed him. The ALCS MVP who had led the charge to finally dispatch the Houston Astros. The perfect face of a Rangers team that was never supposed to be here. 
On the fifth pitch, Garcia swung. 373 feet, out by the length of a jumbo chili dog. For this moment, there are no words. It was as close to perfection as this life could ever get. The stadium ought to have been shaking with all the emotion and jumping in this one immortalized moment. 
The Rangers led the World Series 1-0. They had exorcised the demons of a tragic Game 6 loss 12 years ago to the day, in eerily similar fashion.
There were still three more wins to go, and the Diamondbacks responded the next day with a 9-1 win. But there was a different feeling now, like nothing I've ever experienced. There was a connection. Between myself, my dad, Nate, the thousands in attendance, the millions following along from home, the team itself, everybody, sharing one dream. One thought.
This run was never supposed to happen. But it had, and the Rangers were entitled to Overcome. This Texas Rangers team would be the One.
Game 5. Corey Seager broke through the no-hitter. The pitches kept coming, and the Rangers started hitting. Before our eyes, it was going to happen. With a 5-0 lead, needing one last strike, Josh Sborz fired. 
"In their 63rd season, it's happened. The Texas Rangers have won the World Series."
Two sentences and a clear statement. A chance to be among hundreds of thousands at a truly Texan championship parade (on golden streets, if you will), standing less than 20 feet from champions. A record-setting, drought-ending, storybook month of October. A title for one of my hometown teams in my lifetime; one that I was old enough to celebrate.
Even a week removed from it now, the only way to describe it all is unbelievable. But we're not dreaming anymore. We are awake, and we don't have to leave the comfort of this place. The Rangers have finally taken us Higher.