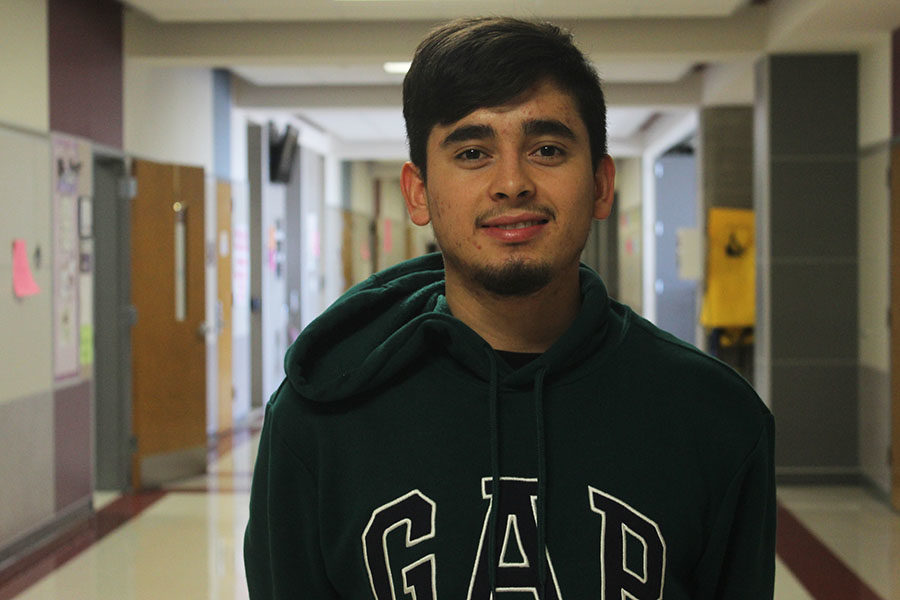 Sacrificing comfort for a better future
He loads his bags in the cramped car and prepares for the 24-hour journey. His tiny house fades into the horizon behind him; he tries not to look back as his car spews black dust clouds into the air. He knows once he reaches America, everything will be different. He closes his eyes and tries to take in his surroundings. His eyes begin to well up with tears; he's left everything he's grown to know. He left his home, his family, his pets and his heart in Mexico but he reminds himself, it's all in sacrifice for a better life.
Senior Martin Martinez Jr. was 17 years old when he arrived in the United States from Guanajuato, Mexico in hope of seeking better economic opportunities. Although he feels more at home in Mexico, he had to sacrifice his comfort and immigrate to the United States to avoid financial struggles and find a job, which was difficult to do back in Mexico. In Guanajuato, he was only given enough money for necessities for school and lunch money. Since arriving, he has found a job as a cook at La Azteca and works to be independent and provide for himself.
"I give thanks to God I'm here, I always prayed he'd give me this opportunity," Martinez Jr. said. "I always knew I wanted to come to the United States when I was older. I like it here but I miss Mexico a lot more. It feels like my days pass by really fast now since all I do is go to school and work."
Although leaving was a necessary step in order for him to have a successful future, it was extremely difficult for Martinez Jr. to leave his family, friends and home behind. He feels the United States can provide him with more opportunities that Mexico simply could not.  
"We left Mexico because we wanted a better life for [my family]," Martinez Jr. said. "Plus, my dad wanted me and my siblings to learn a little bit of English. If there wasn't any money in Mexico, we could make a better living here [but it was hard] to leave my family. I miss them, especially my aunts and dogs, [but] I visit [my family in] Mexico twice a year."
Martinez Jr. lives in a small two bedroom, one bathroom apartment with five other family members, sharing his bedroom with his three siblings. His father, Martin Martinez Sr., who immigrated to the United States in 1980, hopes Martinez Jr. and his siblings can learn to speak fluent English and become responsible young adults. Martinez Sr. grew up in a broken home and has dealt with drug abuse; he expects Martinez Jr. and his siblings to learn from his mistakes and not commit the same errors.
"As a parent, I have to be their role model," Martinez Sr. said. "I can't give them a reason to do bad choices because it's not easy to get out of a drug problem. In this past, they've had an uncle younger than me that died of his drug addiction and there's still plenty of people back in Mexico younger than me that are battling with drug abuse."
Martinez Sr. works everyday to teach his kids to love one another and God, both aspects of life he wasn't taught growing up. Despite struggling to stay sober, his kids are his motivation to stay clean. He reminds himself why he's here and thanks God that nothing awful has happened to him; Martinez Sr. has been clean from drugs and alcohol for over two years.
"I hope my children get to know the life here in the United States because when I was younger, that was my mistake, nothing grabbed my attention," Martinez Sr. said. "For that reason, I started getting into drugs. I didn't have anybody to tell me what I was doing wrong which is why I'm trying to be a role model to my kids."
Currently, Martinez Jr.'s biggest obstacle is being able to speak fluent English. He has Kelsie Wong, one of his best friends, by his side; she helps him order food at restaurants and translates anything he doesn't understand. Not only does she help with his English, but he helps her perfect her Spanish as well.
"I'm very happy [with Martin]," Wong said. "[He's] very fun [to be around and] I feel more at peace [when I'm with him]. He's my [best friend]. He's really nice, he's a good person and has a big heart. I just want people to treat him the same [way I do]. His heart is the kindest anyone will ever see."