Coaching English with love
February 19, 2020
The classroom vibrates with students' screams. They yell their vocabulary terms in sync while pre-AP English teacher Emily Wallace waves her hands animatedly, leading their chants. The announcements sound to life, calling the class' attention. Everyone hushes to a quiet whisper and listens absentmindedly. After her award for Killough's Teacher of the Year was revealed, silence crept around the room, but seconds later the students erupted in cheers for their favorite teacher's award. Teachers and students alike barged into Wallace's room, congratulating and praising her for the accomplishment. Wallace grinned cheek to cheek among the crowd, her heart light and filled with joy.
Wallace is known by her students and co-workers for bringing life and energy into her classroom. Motivated by her competitiveness, she felt she could teach better than how she was taught. She invested herself in her work, putting in all of her love and spirit in order to teach her students well.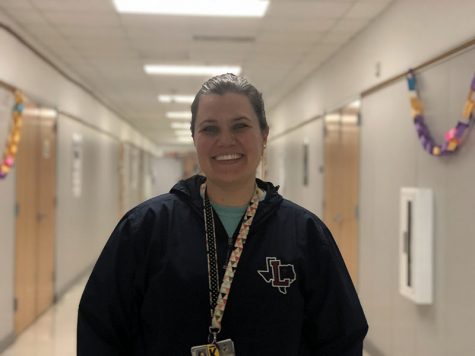 "When I got to high school I [lost] my love for English class because it became boring and dull, [but] I felt like I could bring my energy and enthusiasm into [it]," Wallace said. "Whatever job you have in your life, you're going to have to speak to people, you're going to have to write things, you're going to have to read things. [It's] such a relevant class for anything you do in life so I wanted to do it well and I wanted to do it for the glory of the Lord."
Sophomore Haylee Rachlal, a previous student of Wallace, knew without a doubt \ Wallace deserved the award she was given. She witnessed Wallace's kind spirit and positive energy firsthand and saw the effect it had in her classrooms and on her students. 
"There [are] endless reasons that contributed to Ms. Wallace winning Teacher of the Year," Rachal said. "For starters, she has the best attitude. She truly believes in her students and knows we can all get better. Not just [in] academics, but as a person too. She doesn't just teach us how to properly write or analyze a reading, but she teaches us kindness and determination and shows us we really can do anything we put our minds to."
AVID coordinator Shawna Werts works closely with Wallace as both teach ninth grade AVID together. She hears about Wallace's teaching through her students and through the walls, as her booming voice bounces around the halls. Her students speak of Wallace fondly, showing the impact Wallace has on her kids.
"[She's] deafening, because of the obvious decibel level in her classroom," Werts said. "[But] she [also] silences the negativity and the doubts of her students [with] her love, her commitment to excellence, her smile and her patience."
Rachal struggled with English because of her dyslexia. But Wallace worked individually with her, determined to make Rachal a stronger reader and writer. Rachal improved drastically with Wallace's help and started to see Wallace as more of a friend than a teacher.
"I would always give up," Rachal said. "Ms. Wallace made sure I didn't do that. She is the reason I'm at the reading level I am today. She pushes all of her students to do their best and she truly believes we can get better if we push ourselves. Ms. Wallace and I have almost a best friend type of relationship."
Wallace strives to go beyond English, wanting to teach students the importance of kindness and character. She aspires to administer these traits by treating her students with love, hoping they will learn by her example. Wallace encourages her students as writers and as people, handling her students with the understanding and respect they may not get in other classrooms.
"Someone told me recently I don't just teach English but I coach English," Wallace said. "I want my students to be smarter, [but] most of all I want them to be young men and women of character, that they spend their life doing small things with great love."