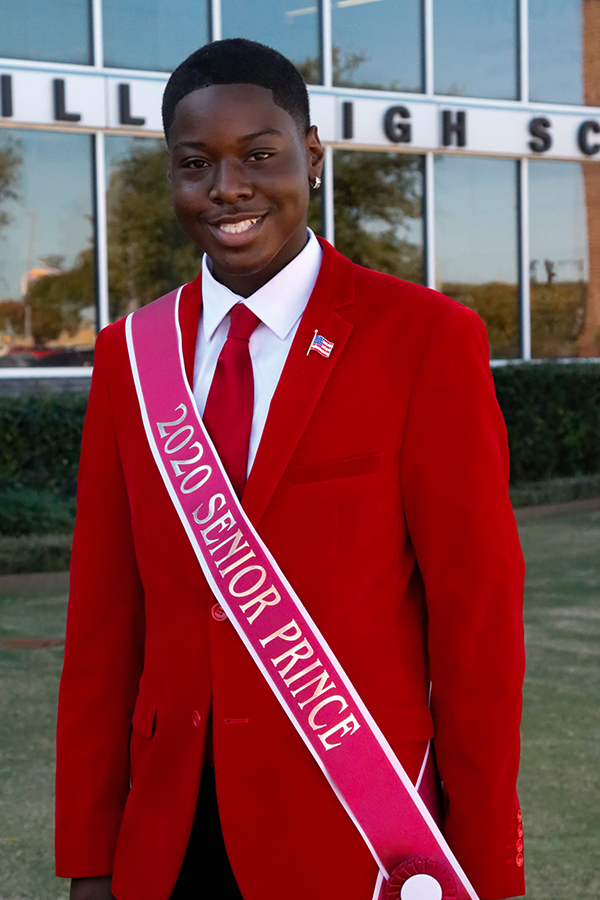 Prince Morris Mims
Q: What is it like being on the homecoming court during the current pandemic?
A: "It's a little bit disappointing because the things [I've] looked forward to doing as a senior [on] the homecoming court I can't do this year. But it's also exciting people still had enough respect and time to vote for me this year."
Q: What does being on the homecoming court mean to you?
A: "It means a lot and I'm so appreciative of everyone that voted for me this year."
Q: How did you feel when you found out you were on the homecoming court?
A: "I felt honored. I was in the Student Council room and all I could do was just smile and thank everybody for voting for me."
Q: Have you always wanted to be on homecoming court? Why or why not? 
A: "Yes. I was on the homecoming court as a freshman and I always wanted to return as a senior, so I'm really excited I got that opportunity this year."
Q: How has COVID-19 impacted your senior year so far?
A: "It's impacted my senior year drastically. Everything I was looking forward to has pretty much been misconstrued. My debate competitions have been all canceled, DECA has all been changed [and] events for Student Council have been changed. Everything I was looking forward to is pretty much gone."
Q: Despite the circumstances, how will you make the best out of your senior year?  
A: "I'm going to keep moving forward, keep participating in everything, do my best [with] everything and hopefully everything works out."
Q: What are you most excited about regarding homecoming?
A: "I am most excited about the football game. I get to make my parents proud to be on the field that day."
Q: Who inspired you to get involved in homecoming? 
A: "I was involved in homecoming when I was a freshman and so every year has [had] that same kind of stamina. But I was inspired by a couple of friends that did it last year and I wanted to have that same experience this year. So hopefully they can come back and be there for this moment."
Q: Throughout high school, what were you involved in? What was your favorite activity you were involved in and why?
A: "Speech and debate, Student Council, DECA, Business Professionals of America, business and marketing and African American Association. I loved them all equally and they brought me so many different experiences I wouldn't have been able to achieve [otherwise]. I learned hard work and I was also in ROTC so I learned discipline and how to train myself to do something I don't want to do. I learned a lot of stuff people learn their first year of college a lot earlier on, like how to pace myself and how to finish work on time."
Q: What will you miss most about high school when you graduate? 
A: "I'll probably miss my friends. Just seeing the same people every day is going to be what [I'll] miss the most from high school."