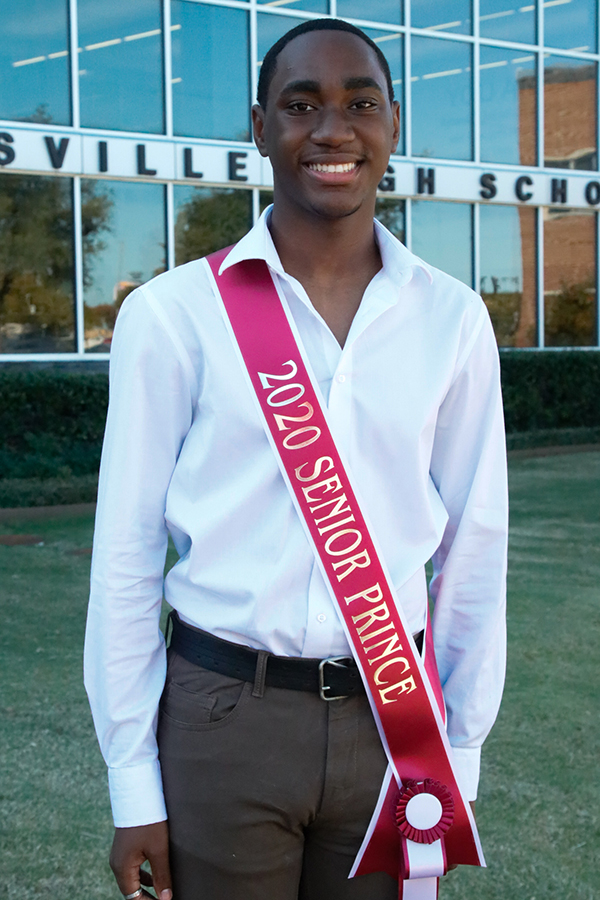 Prince Nathan Layne
Q: What is it like being on the homecoming court during the current pandemic?
A: "It's kind of weird. Everything is going to be different, but I guess we need to make the most out of it."
Q: What does being on the homecoming court mean to you?
A: "Just something to do since it's my senior year. It's also nice to know a lot of people like me. It gives me a sense of school pride as well." 
Q: How did you feel when you found out you were on the homecoming court?
A: "I was happy to see people were voting for me. It makes me feel like I'm cool with everybody in the school."
Q: Have you always wanted to be on homecoming court? Why or why not?
A: "I did it sophomore year and then junior year. I wanted to try something different during my four years of high school."
Q: How has COVID-19 impacted your senior year so far?
A: "It has really affected me doing marching band. It has been harder because we are all 6 feet apart and also some of my friends [aren't] coming to school [in person]. It's really weird, but so far I've gotten used to it."
Q: Despite the circumstances, how will you make the best out of your senior year? 
A: "Just keep a smile on my face and not mope around as much. I also try not to think about how life might change."
Q: What are you most excited about regarding homecoming?
A: "This year I'm with all of my friends and my new friend is Trevor. A lot of my friends are on the homecoming court this year like Luis, Miguel, Chelsea and Trevor. It means a lot to be with them this year. "
Q: Who/what inspired you to get involved in homecoming? 
A: "I would probably say friends inspired me to get involved. It was really because me and my friends said to each other, 'Let's do it.'"
Q: Throughout high school, what were you involved in? 
A: "I was involved in StuCo, AVID and band. I would say band helped me because it made me want to get my work done earlier because of practice. AVID has helped me out with my organizational skills and also my time management."
Q: What was your favorite activity you were involved in and why? 
A: "The most fun for me is probably marching band because I got to meet all of my new friends. The people I'm close with now and the directors have all really become family to me."
Q: What will you miss most about high school when you graduate? 
A: "I will miss some of the teachers I have created bonds with and all of my close friends. We will all be leaving separately and going to new schools. It will be very different."