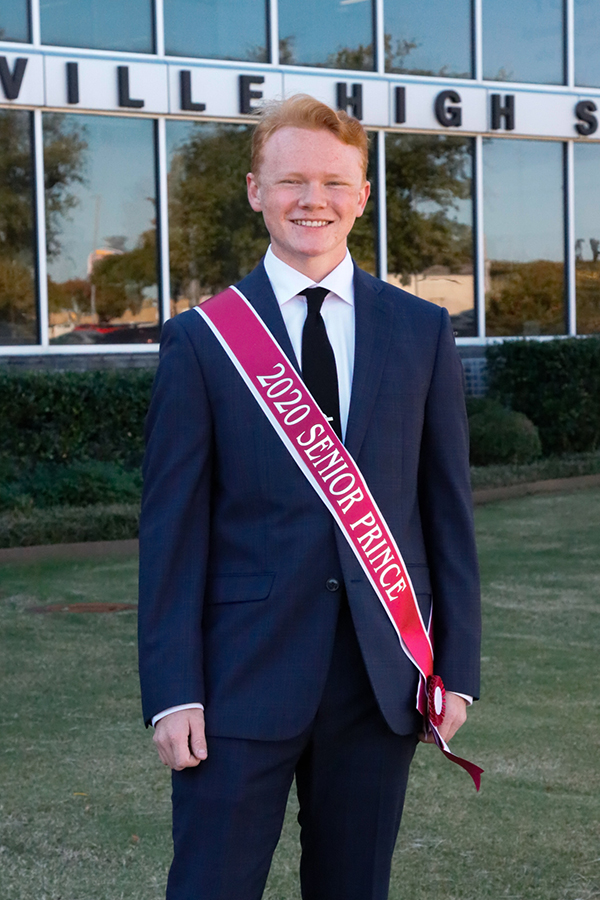 Prince Shawn McConnell
Q: What is it like being on the homecoming court during the current pandemic?
A: "It's an honor to say the least, but it is also a little bit less of an accolade in comparison to [previous years]. [I'm disappointed there is] no dance this year, but I still think there is going to be a lot of good events because there are still football games being held."
Q: What does being on the homecoming court mean to you?
A: "Being on the homecoming court [means] being a representative of the student body and [being seen] as a popular person or ambassador."
Q: How did you feel when you found out you were on the homecoming court?
A: "It was cool, I got [to school] two minutes after they said the announcement and [my friend] Kathy came up to me and said 'Hey Shawn, congratulations,' and I said 'On what?' When she told me, I was like 'What, no way. That's so cool.'"
Q: Have you always wanted to be on homecoming court? Why or why not? 
A: "Yes, I ran every year and I lost every single time. I've always wanted to be the guy people can look up to. I want to be that local 'do everything' guy."
Q: How has COVID-19 impacted your senior year so far?
A: "The leadership positions aren't as high of spectrum as they [would be normally], so not being able to go to all the events as I would as a regular leader is definitely unfortunate. Service opportunities are really hard to find for NHS and other clubs."
Q: Despite the circumstances, how will you make the best out of your senior year?  
A: "I have to stay positive and look toward the future. I'll take it day by day and try not to think negatively. The best thing to do is keep moving forward."
Q: What are you most excited about regarding homecoming?
A: "I'm excited to see the crowd and be able to walk across the field with the other homecoming court members [at the football game]."
Q: Who/what inspired you to get involved in homecoming? 
A: "I've known people who I look up to [on] homecoming court and winning prom king. Having that spectacle [of] them being the full representative of what LHS stands for, made me want to be that guy who people see as 'Mr. LHS.'"
Q: Throughout high school, what were you involved in? What was your favorite activity you were involved in and why?
A: "I've been involved in Student Council, JWAC, National Honor Society, drumline, president's club and Mu Alpha Theta. My favorite activity I've been involved in is definitely drumline, just because I've been most active in it and it has had the most impact [on me]. I've definitely enjoyed my band experience, but I like drumline a little bit better because we win more. What sets me apart from others [in drumline] is that I've had a drive from the beginning and I was able to get a good position all the way through high school. I am currently the drumline captain."
Q: What will you miss most about high school when you graduate? 
A: "I'll miss being versatile within clubs, having the ability to join everything and being a leader of those clubs. When I get to college, there won't really be organized clubs and I'll be focusing on one major in particular rather than a wide variety of topics, so I can't really go into every field I want to."