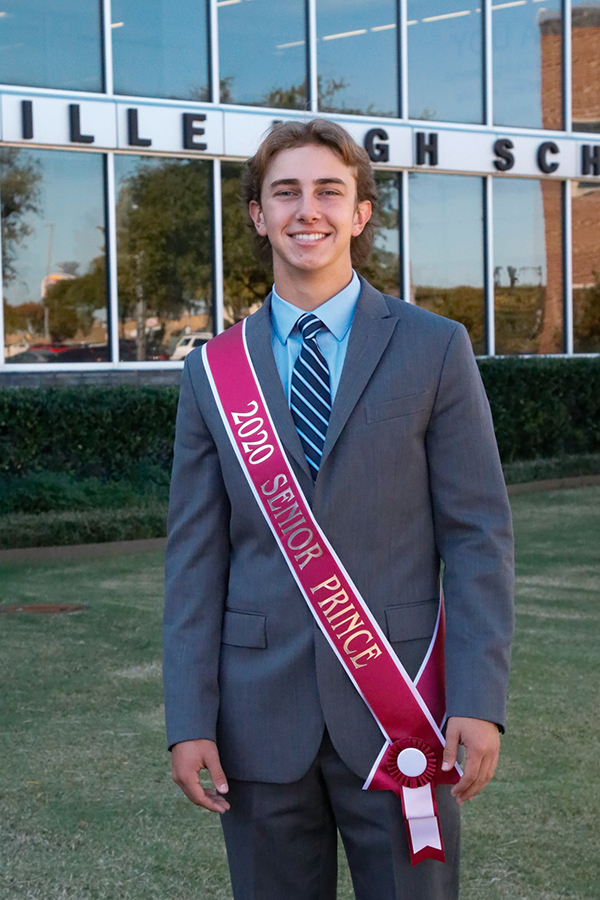 Prince Tanner Groover
Q: What is it like being on the homecoming court during the current pandemic?
A: "It's cool. I thought I'd try it out and have fun, but it's a little different. Of course, the parade is different, we don't know if we're going to have a dance, probably not, but I hope we have a fun time."
Q: What does being on the homecoming court mean to you?
A: "To be honest, not a lot. I just thought it would be fun to try it out. It's cool people know me and think I'm a cool kid so I wish nothing but the best for the other princes and princesses."
Q: How did you feel when you found out you were on the homecoming court?
A: "It felt pretty cool, I heard it over the announcements. I was like 'That's pretty dang sweet.' It should be a fun experience to see my name up there." 
Q: Have you always wanted to be on homecoming court? Why or why not? 
A: "I thought [since it's] senior year I'd try. I really didn't care in past years but this year I was like 'Well, I might as well give it my all.' It's senior year; go all out."
Q: How has COVID-19 impacted your senior year so far?
A: "It kind of sucks. For football games, you can only go to half of them. Some of my friends aren't here. All the experiences we should have in the fall [were canceled], like [the] homecoming dance. Things are obviously different, but we also have to understand we're in a pandemic."
Q: Despite the circumstances, how will you make the best out of your senior year?  
A: "Just living it to the fullest, do everything you can to have fun but follow the precautions they give you. Just make the most of it, don't complain or whine about it. Just go get it."
Q: What are you most excited about regarding homecoming?
A: "I hope we have the dance, but if not, just the whole thing. I like the dress-up days, they're pretty fun. [I hope] to have fun and the football team wins."
Q: Who/what inspired you to get involved in homecoming? 
A: "My buddy Blaine told me to try it out. He said 'You should run for homecoming court' and nominated me. I was like 'That sounds like a good time.'" 
Q: Throughout high school, what were you involved in? What was your favorite activity you were involved in and why?
A: "I was involved in National Honors Society, StuCo, football and baseball. This year I'm joining one of the business clubs. They've been a lot of fun, helped me grow as a person and helped me become a man. I wouldn't take it back."
Q: What will you miss most about high school when you graduate? 
A: "I'll miss the relationships I've built, the role models I've had throughout the years and basically [all] the fun time [I had] as a kid."