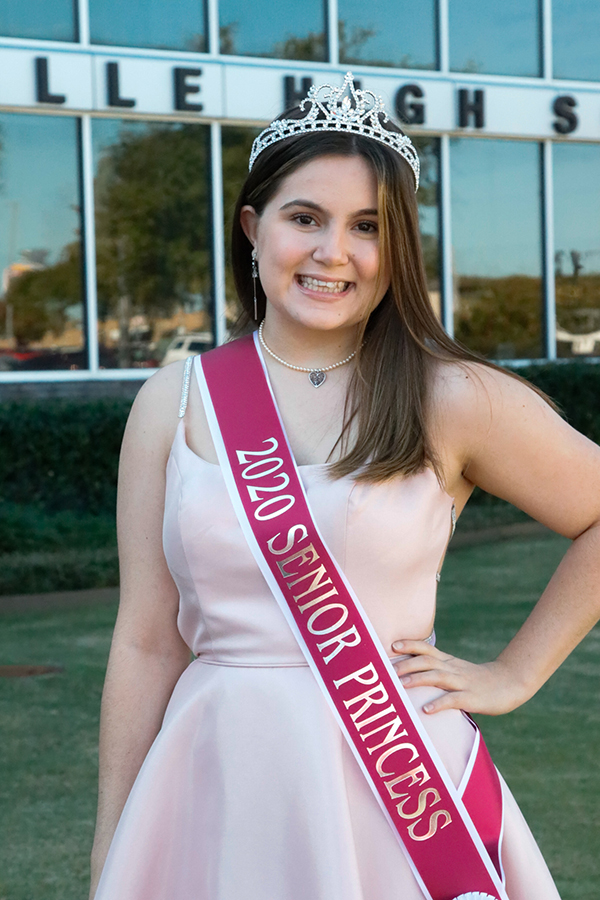 Princess Emily Harrison
Q: What is it like being on the homecoming court during the current pandemic?
A: "It's definitely different, and it's a little bit sad because I was really looking forward to the homecoming dance. Although I've gone to every single homecoming dance since my freshman year, I was really looking forward to this year because it's my senior year and it feels more special."
Q: What does being on the homecoming court mean to you?
A: "It's an honor, I wasn't expecting it. I feel like I'm living up to my younger self's expectations because this is something I always dreamed of when I was younger."
Q: How did you feel when you found out you were on the homecoming court?
A: "I felt really surprised because [I wasn't] originally voted so I didn't think I was going to be [on] the court at all. But whenever they [released the second voting's result], I was shocked [because] I thought I had no chance. When [I found out] I was at my house. The first thing I did was tell all of my friends and my family and just thanked everyone who voted for me."
Q: Have you always wanted to be on homecoming court? Why or why not? 
A: "Yeah, like I said before ever since I was a little kid it's always been my dream. You watch all these movies, like High School Musical, and you see them living the high school dream and you want that for yourself."
Q: How has COVID-19 impacted your senior year so far?
A: "A lot of events like homecoming have been canceled. The parade is going to be really different. It's going to be a reverse parade so I'm pretty sad about that and just senior year [in] general. It's kind of unfortunate having to wear a mask to school because you're not getting that senior feeling of excitement. It feels like I'm going to school because I have to, not because I want to anymore. That senior spark is gone."
Q: Despite the circumstances, how will you make the best out of your senior year?  
A: "Just by having fun with my friends and doing as much as I can [to stay] involved [and] stay active."
Q: What are you most excited about regarding homecoming?
A: "I'm most excited for the parade because that's one of the only big things we're doing. I'm excited to see [what] it's going to be [like] and just for my family to see me in the parade and down [on] the field at homecoming."
Q: Who inspired you to get involved in homecoming? 
A: "Mostly my best friend Christine because at first I wasn't going to run and she convinced me to. It was a good thing she did because I actually won. She's one of my biggest inspirations because she's always like 'Just try it and if you don't win, that's OK.'"
Q: Throughout high school, what were you involved in? What was your favorite activity you were involved in and why?
A: "I've been involved in Student Council as historian, National Honor Society as parliamentarian, interact, swim and newspaper. I was mostly involved in Student Council [from] freshman year to junior year. It was a big honor and I really loved planning all the events and [going] behind the scenes for everything. [I loved] helping out in my community. My senior year I got involved in newspaper because I really love writing and photography. I [had the chance to do Student Council this year] but I thought I've grown from it. Journalism is what I want to do with my career. So that's why I chose to do newspaper instead, [since it's] what I'm actually going to do in the future."
Q: What will you miss most about high school when you graduate? 
A: "I think I'll miss seeing my friends every day and having the freedom to have fun and stay out late. Now I'm going into adulthood and I have to be responsible. I probably won't be going to college with [any of my friends]. There's still a possibility but we haven't made our final decisions on where we're going to go. But I'm definitely still going to visit them. Me and my best friend Christine made plans to go visit each other on our holiday breaks, so I'll still get to see [her]."