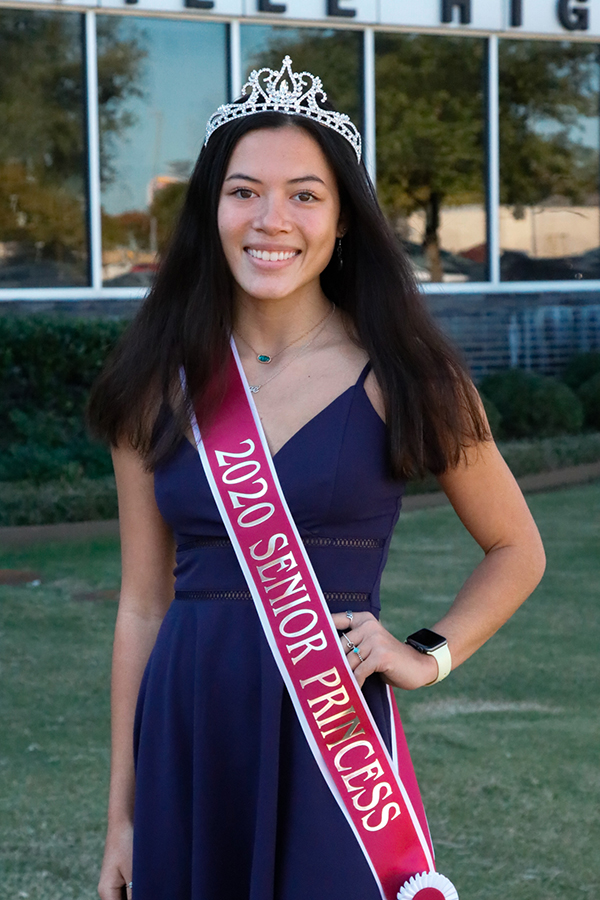 Princess Jenna Villanueva
Q: What is it like being on the homecoming court during the current pandemic?
A: "It's kind of weird because all of the [traditional] opportunities are gone, like the homecoming dance. But it's cool we still have the parade and the football game." 
Q: What does being on the homecoming court mean to you?
A: "I think it's cool that people voted for me. I really wasn't expecting that. [Especially since] it's senior year."
Q: How did you feel when you found out you were on the homecoming court?
A: "I was shocked, honestly. I really was not expecting to win. After I saw the names on [the ballot], I was like 'These people are more well known in the school than I am. They have a better chance.' When they said my name, I was like 'What the heck?' It was a cool feeling." 
Q: Have you always wanted to be on homecoming court? Why or why not? 
A: "Yes, I wanted to do it last year but I was too scared to do it. But this year, I was like 'It's senior year, it's just for fun.'" 
Q: How has COVID-19 impacted your senior year so far?
A: "It took away a bunch of my cheer events, especially practices and events in the summer. The football games [aren't] as crowded and it's kind of sad not seeing the stands packed with people. It's weird not having everyone in the hallways because it's staggered release and [we have] four lunches."
Q: Despite the circumstances, how will you make the best out of your senior year?  
A: "Just go with the flow. There's nothing we can do. We can't change anything that's happened, so just deal with it and try to make the best of it."
Q: What are you most excited about regarding homecoming?
A: "I'm excited about the parade, even though it's gonna be different this year. The dance is canceled, [although] I was really looking forward to it. But I like dressing up and getting ready." 
Q: Who/what inspired you to get involved in homecoming? 
A: "I've always wanted to run for homecoming, but I thought for senior year it would be pretty cool and a little more special. I thought it would be a cool experience to run for court and represent the school. I also wanted to run for hoco with my boyfriend, but unfortunately, he didn't have 2 clubs/teams, so he wasn't able to."
Q: Throughout high school, what were you involved in? What was your favorite activity you were involved in and why?
A: "Throughout high school, I've been involved in cheer. That's pretty much my only activity I've been involved in and it's really fun. It takes up a lot of my time." 
Q: What will you miss most about high school when you graduate? 
A: "My friends, [my] teachers. I'm going to miss cheer and not being able to see my friends every day and hang out with them. I think I took advantage of high school. I just thought it was going to go by slower, but now we're here."