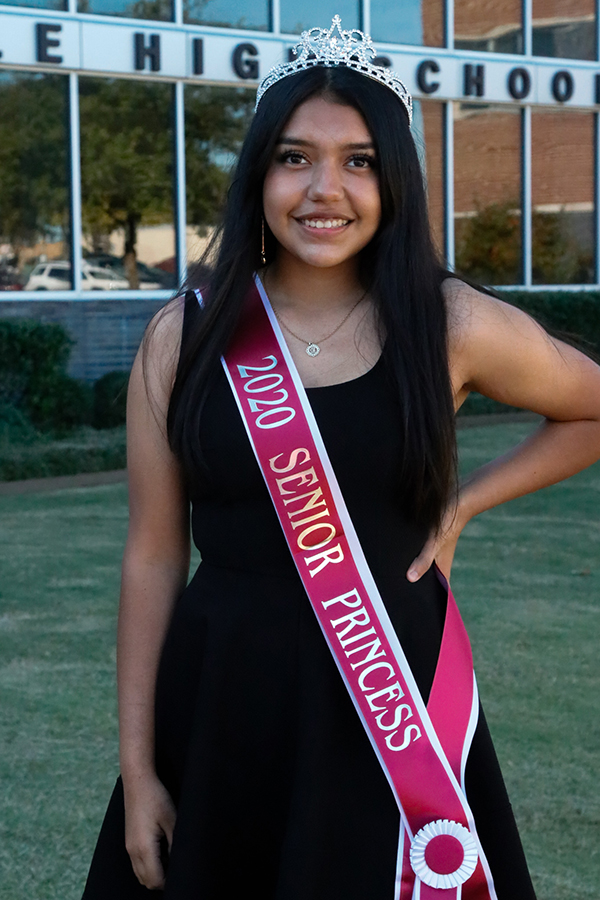 Princess Katherine Reyes
Q: What is it like being on the homecoming court during the current pandemic?
A: "Since it's my first time being on the homecoming court, I don't have much to compare it to. Despite that, I will say I'm beyond grateful I'm able to experience such a fun part of high school, even with COVID limitations. Overall, I feel really happy; the day the court was announced it was my birthday, so that was something special for me."
Q: What does being on the homecoming court mean to you?
A: "Being on the homecoming court means I've made a positive impact on people or left a good impression. Why else would they want me on the court, right? It's always my goal to make others feel comfortable and happy with me, so I'm genuinely thankful people feel that way."
Q: How did you feel when you found out you were on the homecoming court?
A: "I was in the bathroom because I had just changed out of my culinary uniform, and the announcements came on as I was adjusting my hair in the mirror. I counted the names called on my fingers and was excited as I heard familiar names. When I heard mine, it took me a second to register it was my own name. My eyes were so huge looking back at myself, and I jumped up and down excitedly. It was a shock but I was ecstatic."
Q: Have you always wanted to be on homecoming court? Why or why not? 
A: "I remember watching movies about high school as a kid, and they always highlighted the fun of these types of events: the dressing up, the fun with other court members and friends and organizations you're in cheering you on. It's always been something I was curious about participating in but didn't believe I had a chance."
Q: How has COVID-19 impacted your senior year so far?
A: "I'm in band, so it has definitely impacted that aspect of my senior year. It's taken away a lot of the competitions, bonding and even our whole marching show we were looking forward to performing. It's also taken away a lot of the simple things such as hugs, dances and volunteering events we used to be able to do. There are countless other things I could say. COVID hasn't been kind to anyone."
Q: Despite the circumstances, how will you make the best out of your senior year?  
A: "I'm definitely going to cherish anything I get to experience. Before, it was easy to take things for granted because it's been the norm for so long, but I miss so many things from before, so I'm going to cherish the people around me and the events we get and memories we form so much more."
Q: Who inspired you to get involved in homecoming? 
A: "My friends [inspired me]. I posted something about it on my Snapchat and a lot of my friends told me they'd nominate me and I should totally go for it. I was nervous I wouldn't make it, but I told myself it was my senior year and my friends pushed me to go for it. I'm glad they did."
Q: Throughout high school, what were you involved in? What was your favorite activity you were involved in and why?
A: "I've been involved in Student Council since freshman year. I was vice president for my campus both years but started focusing more on National Honor Society and band things coming into junior year. I loved being part of the band during the blackout parade all three years because everyone in the band goes all out and we have so much fun doing horn movements in the dark with the glow sticks."
Q: What will you miss most about high school when you graduate? 
A: "I'll miss my friends. Each and every one of them, even the ones who I don't talk to much or the ones who are in different grades. Almost every great memory I've made in high school has been with friends. I know it's hard to keep contact with everyone after we graduate because everyone goes to different schools and people change. My friends mean a lot to me, so I'm really going to miss them."