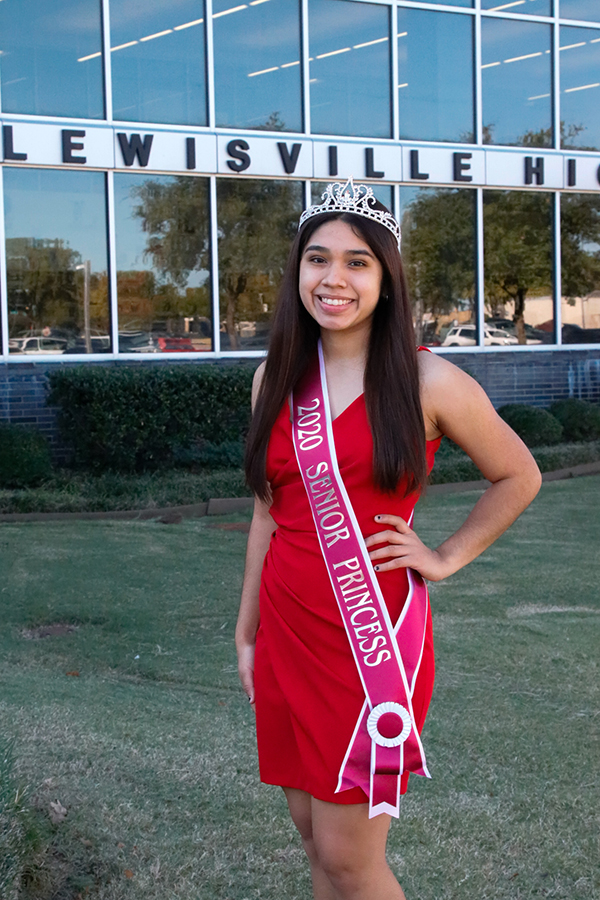 Princess Lauren Lucio
Q: What is it like being on the homecoming court during the current pandemic?
 A: "I'm excited to receive this opportunity. I am so thankful for my classmates that were able to make this happen. It's always been something [I've looked] forward to. It is definitely a little different this year, but I am beyond excited to get to know such great people." 
Q: What does being on the homecoming court mean to you?
A: "Being on the homecoming court has always been a dream of mine, ever since I was younger. The thought of getting all dressed up and receiving a tiara excites my younger soul. I love my community and traditions [and] I am very excited to be a part of one."
Q: How did you feel when you found out you were on the homecoming court?
A: "As soon as I found out me and a couple [of] friends made the homecoming court, we were all extremely excited. It was definitely a little nerve-wracking because there were a lot of people running."
Q: Have you always wanted to be on homecoming court? Why or why not? 
A: "I have always wanted to be a part of the homecoming court because I've always had a great love for homecoming week. The parade, the chalk-the-walk and the dance are some of the events I absolutely love. Everyone looks forward to homecoming."
Q: How has COVID-19 impacted your senior year so far?
A: "If I'm being completely honest, COVID has impacted my life pretty roughly. I have always been a motivated, outgoing and hardworking person. Ever since the pandemic [started], I thought I had lost myself. I stopped taking care of myself and my mental health was not the best. I lost all motivation to continue doing my school work. It has still been extremely difficult to find motivation, but I have been slowly improving and I'm thankful for my family [who continues] pushing me."
Q: Despite the circumstances, how will you make the best out of your senior year? 
A: "Even though it has been a rough year, I intend to make the most of it by creating as many memories as I can, along with meeting new people and making more friendships. I can't believe it's my final year of school. These years went by so fast."
Q: What are you most excited about regarding homecoming?
A: "I am most excited about the parade. Although it will not be as big as the previous years, I am still excited we are able to make it happen."
Q: Who/what inspired you to get involved in homecoming? 
A: "The people who inspired me to run for homecoming court are my aunts. They both graduated from LHS almost a decade ago. They always tell me how they were never truly involved and really regret it. I never thought about running for homecoming court until they told me they were friends with the homecoming queen that year and she absolutely loved the [experience]."
Q: Throughout high school, what were you involved in? What was your favorite activity you were involved in and why?
A: "Throughout my years in high school, I have been involved in Interact, I was a kindness ambassador, in National Honor Society, Student Council, Farmerettes and soccer. I really tried my best to be a part of everything, but eventually I had to choose and I stuck with StuCo. It was really hard to choose, but I have always enjoyed serving my community and others."
Q: What will you miss most about high school when you graduate? 
A: "When I graduate, I know I will miss the teachers and staff. The staff does their all to make every student feel welcomed and safe in our school. The love I have received from this school is unlike any other. I know I will also miss seeing my classmates every day. I'll especially miss sharing laughs, jokes, answers and even just being in their presence. After we graduate, we will most definitely not see each other again for a while."