Review: The 1975's newest release impresses fans
Third studio album showcases strong vocals, beautiful instruments, enticing lyrics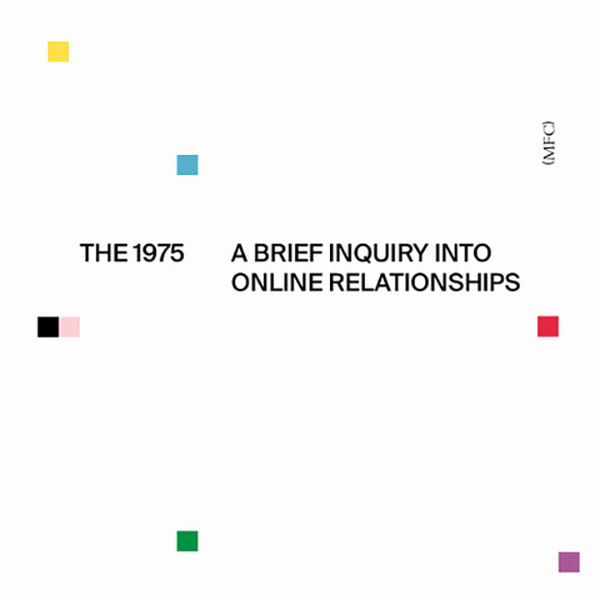 Indie-pop group The 1975 released their third studio album, "A Brief Inquiry Into Online Relationships" on Friday, Nov. 20. With more than two years passing since the release of the group's second album, "I like it when you sleep for you are so beautiful, yet so unaware of it," "A Brief Inquiry Into Online Relationships" received an extremely high amount of hype through social media due to the release of five official singles of the total 15 songs on the album. It is clear to fans the band was attempting to gain the maximum publicity possible leading up to the album's release, which makes sense from a business perspective, but from an entertainment perspective it comes off as a cheap sellout tactic.
The first single for the album, "Give Yourself A Try," was released on Thursday, May 31, 2018, and was an overall disappointing song. After over a month's worth of social media hype from The 1975's social media accounts, all that was given to fans was an annoying electric guitar riff with vaguely introspective lyrics sung in a whiny voice slapped over the instrumentals. Released with the song was a music video that was confusing and strange overall. Fans of the band expected amazing content, which The 1975 managed to deliver with the other singles.
The highly explicit, political angst-charged song "Love It If We Made It" was released on Tuesday, July 12, 2018, with a music video released on Monday, Oct. 15, 2018. This single used controversy as a rise to fame with references to highly controversial political topics such as corruption of the American prison system, President Donald Trump's previous inappropriate remarks while speaking about women, and the potential war of the United States against North Korea. The song takes a liberal-leaning perspective and uses words and topics that are controversial; "Love It If We Made It" is not a song meant for the faint of heart. With that said, the rough-sounding vocals combined with smooth synth instrumentals create an interesting contrast that improves the experience of listening to the song.
"I Like America & America Likes Me" and "Sincerity Is Scary" both serve to further criticize modern American culture. The former chides violence being glorified, while the latter scolds the shameful culture surrounding relationships and love. Both are pleasant to hear overall and cause the listener to think in depth about modern culture and what it all truly means in life. In "Love It If We Made It" and a sign included in the music video for "Sincerity Is Scary," a different point of view is brought up with the phrase "The poetry is in the streets," or "La Poesie Est Dans La Rue." This line has been confirmed by lead singer Matty Healy as meaning that society should find beauty in everyday America and that finding beauty can be achieved from simply walking down the block.
Upbeat summer jam "TOOTIMETOOTIMETOOTIME" was released on Wednesday, Aug. 8, with an exciting music video to match released exactly three weeks later on Wednesday, Aug. 29. With a brightly colored background and a diverse cast dancing around, the music video provides an improved experience while listening to "TOOTIMETOOTIMETOOTIME." Although the song covers such a depressing topic, cheating in relationships, its dance-friendly music video and overall vibe follows a signature The 1975 style of mixing melancholy topics with joyous music.
A widely used topic of the album is love, with songs like "I Couldn't Be More In Love," "Mine" and "The Man Who Married A Robot/Love Theme" all tackling the sweet topic in vastly differing ways. "I Couldn't Be More In Love" discusses the struggles someone with mental health issues may face while in love. "Mine" is The 1975's first real attempt at a wedding song, with sickeningly sweet lyrics making listeners' hearts melt; briefly mentioned at the end of the song is potential commitment issues, but that is quickly disregarded with a "why should I care when I have you" resolution. "The Man Who Married A Robot/Love Theme" is a robotic spoken word piece plastered over soft piano playing, with trumpets and violins thrown in at the end to make it so beautiful. The story is of a man in China who created a robot with a female design and proceeded to fall in love and eventually marry the robot. In the song, the story is told in an abrupt and explicit way but fits with the theme of the album quite well.
The fourth single, "It's Not Living (If It's Not With You)" was released on Thursday, Oct. 18 and also stays true to The 1975's roots. It is exactly what fans would expect: a dark topic paired with a catchy tune to make a beautiful piece of music. The topic at hand is a first for the group: Healy's five-year heroin addiction. Speaking in the third person, the song tells the story of "Danny," who is meant to represent Healy, struggling to make it through daily life because he is addicted to drugs. This meaningful song gives the audience an insight into Healy's struggles to show that drug use is not to be romanticized.
While the singles for the album were nice in their own way, they did not accurately represent the overall melancholy vibe of "A Brief Inquiry Into Online Relationships" musically. Seven of the 15 songs, in addition to Japanese-exclusive track "102," were slow paced and mellow, with only one single to represent that type of sound. "I Always Wanna Die (Sometimes)," "Be My Mistake" and "Surrounded By Heads And Bodies" utilize a criminally underused sound: acoustic guitar mixed with Healy's vocals. Healy possesses a unique talent to portray the emotions from lyrics of his songs in vivid detail purely with a less-polished raw tone of singing and it does wonders for the album.
The musical prowess of "A Brief Inquiry Into Online Relationships" is simply unmatched. Nearly every song on the album is easy to listen to and gives its own uniquely beautiful energy to the audience. The high number of acoustic/slow songs in the album also expands The 1975's experience in that area, where previously only a few songs brought in that slow-paced aspect. Diversifying the vibes of the songs will surely result in success for the band, especially because the combination of an acoustic guitar and Healy's voice is nearly unstoppable in a recording booth.
Due to having a total of three skippable songs on the album, "The 1975," "How To Draw/Petrichor" and "Give Yourself A Try," this album deserves 4 out of 5 stars. "A Brief Inquiry Into Online Relationships" does exactly what the title says by inquiring into modern culture and relationships in the 21st century. The musicality of the songs, as well as Healy's stunning vocals, provides listeners with an emotional rollercoaster they won't soon forget. The 1975 is stronger than ever and will surely go on to achieve amazing accomplishments in the future.