Facing reality
Theater department showcases real-life situation in 'The Book of Everything'
Theater is set to perform the play "The Book of Everything" by Guus Kuijer from Thursday, Jan. 30 through Saturday, Feb. 1 at 7 every night in the Leo C. Stuver Auditorium. The play is set in the year 1951 in Amsterdam and follows the life of a young boy named Thomas who experiences abuse from his father and writes down the events in a diary.
"This is a play I have directed before," theater director Deborah Jaquess said. "I was familiar with it before I knew it would be performed. We began auditions for this show on [Saturday], Nov. 20 after we completed the musical 'Legally Blonde.'"
Because the play deals with a sensitive situation, the actors focus on reeling in emotions to portray the characters. Junior Jakob Hugar taps into the mindset of a patient and compassionate friend in order to play the role of Jesus.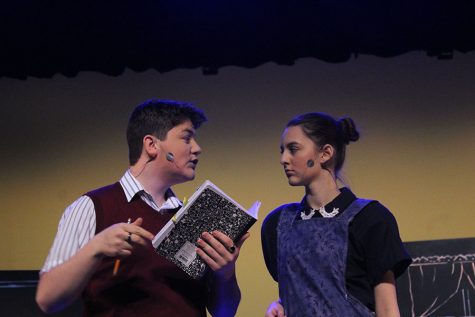 "I just [step] into the character's [shoes]," Hugar said. "I try to connect with the things I would go through and to the things I've gone through. I'll try to imagine what I would be feeling right now."
Despite the fact that the play is set over 50 years ago, it deals with issues still common in this day and age. Senior James Thang, who plays a dog named Bumbiter, hopes the audience takes away the key points portrayed in the play such as self confidence and finding strength within. 
"It's a coming-of-age story," Thang said. "I do hope, although the situation may be extreme, [the audience sees] that what's happening in the play does happen in real life."
The cast and directors rehearse tirelessly for the upcoming performance and hope the audience will enjoy the play.
"It's very fun," Hugar said. "It's scary to go up those stages and memorize that line and see those lights shining back at you. It's thrilling and something I enjoy doing."
Leave a Comment