Recognizing diligence
Principal Jeffrey Kajs receives PTA Extended Service Award
The PTA Extended Service Award recognizes individual school officials for their hard work and dedication after serving their school for an extended amount of time. This year, the award was presented to principal Jeffrey Kajs on Thursday, Feb. 20 at the PTA ceremony.
"I'm very humbled," Kajs said. "Being recognized by individuals is always a nice thing because you've been doing something good and been putting in effort. It makes me feel happy that I'm recognized. I don't do what I do to win awards. I do what I do because I love students [and] I love school."
"
I don't do what I do to win awards. I do what I do because I love students [and] I love school."
— Jeffrey Kajs
As a principal, Kajs' favorite part of his job is the interactions he shares with his students daily. He aspires to help his students in any way he can by adding clubs and organizations to the school his students will enjoy and help them out with the careers they desire to pursue in the future.
"My favorite part of LHS is the interaction with the students, interaction with the adults formally and informally," Kajs said. "I like the students and the hopes they have and the dreams they have."
Kaj's secretary, Kay Sutton, has known him since the start of his career. As she works closely alongside Kajs, she has gotten to know him personally and describes him as determined and committed to his job as principal.
"He portrays leadership in every aspect and he believes in being a team, always allowing and encourages those around him to be leaders as well," Sutton said. "To him, this is not just an 8 to 5 job but instead, one he is totally invested in. He is proud to be our principal."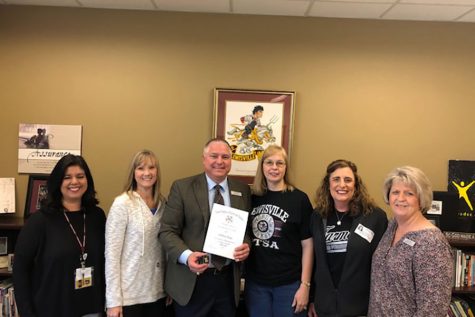 StuCo adviser Allison Stamey met Kajs before he became a principal. Since then, both have bonded over their dreams and their relationship as colleagues has evolved. Stamey is proud to call Kajs a friend and is delighted he won the award.
"[Our friendship changed] from a casual hello relationship to a closer relationship on what are goals are," Stamey said. "As the [principal] of our school and the lead of PTSA, he has supported every project PTSA has done and he's supported them in ways in grants. He's always been the supportive one. It's definitely time that he's awarded [for] that."
Throughout it all, Kajs is grateful for all of the accomplishments he has achieved throughout his career. He is proud he is part of the journey his students take in order to reach their dreams.
"[This award] allows me to look back [at] my career and see the kids I've helped," Kajs said. "In eight years, I've shaken a lot of hands across that graduation stage [and it helps me reflect] of the job that I need to do in the future because we all need to change and do things differently."
Leave a Comment