Going down in history
Academic Decathlon to head to State after placing fifth at Regional IX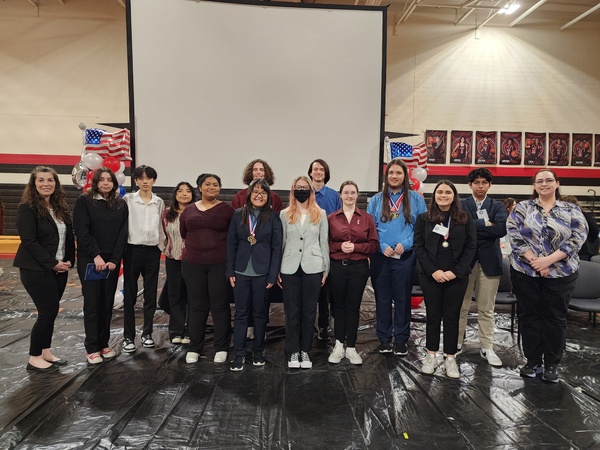 Academic Decathlon will compete in the state finals in San Antonio, Texas from Feb. 23-2. The team qualified after advancing from the Regional IX competition at MacArthur High School in Irving on Jan. 28-29. 
With the team's overall high scores and individual achievements, AcDec became the first-ever decathletes in the school's history to reach state which placed the team fifth in the region for large schools. 
"We feel proud of how hard we've worked, but we also take representing LHS seriously and want to do it well," AcDec co-coach Amber Counts said. "We also hope this helps popularize Academic Decathlon and encourages more students to join."
The decathlete's individual hard work and dedication led to various awards. Senior Andrew Gibson walked away with multiple medals in gold for literature, math, art, economics and science, bronze in overall scholastic in region and gold for top scholastic in team. 
"Being in AcDec has taught me a lot, mostly about time management," Gibson said. "Before I could just do all of my assignments, and I wouldn't have to study for tests, but being in AcDec made me put my own time into school and my success."
AcDec is in need of students, especially freshmen and sophomores. The elective is open to anyone who wants to learn and some information in the curriculum remains the same every year, giving students an advantage if they choose to continue the course. It also gives students opportunities to make strong connections within the team.
"I feel like a lot of my AcDec experience was nurtured through the other people in our team," senior Mikaila Labit said. "Being in AcDec, it's not just memorization like other people think, there is a lot of team connectivity because we help each other rehearse our speeches and there's a lot of inside jokes that come with learning."
Labit won silver in essay, bronze in literature and gold for top in honors team. Senior Anna Gooch, who won gold for top varsity in team, felt reaching state was monumental for not only herself, but for her team as well. 
"I believe my class is the 125 grad class; it honestly amazes me because in all those years no other team could do it, and I'm just super proud of my team," Gooch said. "I want us to succeed and maybe go even further."
Leave a Comment