Dribbling a legacy
Senior Athalie Palomo has never lost sight of what's most important to her – her love for soccer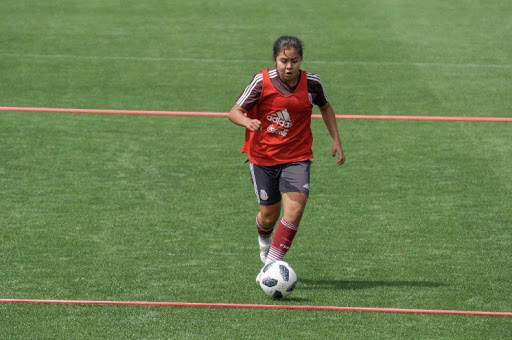 Time winds down. The game is tied, with only minutes left to spare. Desperate eyes turn toward her. Instinctively, she takes on the role as captain and receives the ball from midfield. With only a handful of defenders in front of her, she dribbles closer to the goal. With one swift strike, she sends the ball flying toward the goal.
Senior Athalie Palomo has been playing soccer ever since she was 3 years old. From playing recreational soccer to going on to a national team, Palomo has never lost sight of what's important to her – her love for soccer. Palomo currently plays for two teams: the U20 Women's Mexico National Team and the Development Academy U19 FC Dallas Team. She constantly trains in hope of being able to play professionally and to become the best soccer player she knows she can be, but that comes with its own downsides.
"The most difficult thing about soccer [are] the sacrifices, like time with my family, friends and my diet," Palomo said. "Pretty much everything. But everything I did, I did for soccer; to achieve my dream. That's why I don't go out to parties or hangouts. I've always really liked soccer and I've always devoted a lot of time to it."
Although playing for two teams requires a lot of work, it allows Palomo to be showcased for her dedication and discipline. She has traveled to China and France with her national team and has had the opportunity to play for the World Cup qualifiers.
"Traveling to China was so much fun and unreal," Palomo said. "I got homesick a couple of [times] because I was gone for a month but it was worth it because I was doing what I loved."
Apart from traveling, Palomo also received a full ride to the University of Pittsburgh. Palomo's former coach, Jamie Pulpaneck, is proud to see where Palomo's passion and work rate got her.
"I'm going to be honest…it was tough losing Athalie in high school soccer her junior year to [FC Dallas] and the Mexican National team," Pulpaneck said. "Although Athalie left a huge hole to fill in our team, I would not and could not deny Athalie that opportunity. I would want the best for Athalie."
Palomo's work ethic and expectations for herself are contagious to her teammates. She inspires players by her attitude, work rate and desire to keep working to achieve her goals.
"I admire that she never gives up," former teammate America Elizalde said. "To be able to do the skills she does requires a lot of hard work and dedication. I think great players like her make the entire team better. She just has a lot of talent and she never stops making others feel proud of her."
Although Palomo's hard work got her this far, she owes it all to her mom, who introduced Palomo to soccer and is her biggest supporter.
"[My mom] has been there for me since day one and was the one who got me into soccer," Palomo said. "She pushes me to be the best I can be. She won't sugar coat anything so if I'm having a bad game she will tell me that I had a bad game and helps me get back up. She believes in me and I want to make it for her."
Leave a Comment