Familiar foes
Jaguars to host Farmers in district opener
The varsity football team (2-1) is set to open its district schedule at Flower Mound (0-3) tonight at 7. The Jaguars are reeling after three straight non-district losses, while the Farmers hope to start a win streak after a 44-7 win over Mesquite. 
The Jaguars offense is last in points scored in District 6-6A with only 59, but seniors Yale Erdman and Walker Mulkey could form a dangerous quarterback-wideout duo for opposing defenses. Last season, Mulkey was second in the district in receiving yards (1,207) and touchdowns (13), and he has already caught one of Erdman's four touchdowns passes to go along with 13 receptions for 133 yards. Erdman however, has also been intercepted four times, which has limited Flower Mound's offense.
Defensively, juniors Scott Rumsey and Landon Hickey could form a strong pass rushing duo, with the former already having recorded a sack and three tackles for loss. Both defensive ends have each totaled 11 tackles. 
The Farmers meanwhile, have allowed the least points (44) throughout three games in the district. The next closest team in the category is Plano West, with 83 points allowed. The team has also held two of their three opponents to a single score. 
"We've got to get them in third-and-longs [and] passing situations," head football coach Michael Odle said. "We have to get pressure on the quarterback to get balls that aren't as accurate."
Players on all levels have played a role in this success; senior defensive linemen Carl Malvo and Mason Johnson have a combined four sacks and have put constant pressure on opposing defenses. Junior linebacker Mark Cooper, meanwhile, leads District 6-6A in tackles with 19. Most notable is a secondary headlined by 247sports four-star recruit Jaydan Hardy and brothers Caden and Cameren Jenkins.
Last week, another defensive back got into the action: Tony-Louis Nkuba intercepted Mesquite quarterback Tyrique Womack twice.
"[Nkuba] works really hard to perfect his craft and takes a lot of pride in his technique," Odle said.
On offense, a strong offensive line has allowed junior quarterback Ethan Terrell to buy time and advance the football downfield with his arm or his legs. Terell recorded the team's longest play of the season, an 85-yard touchdown rush against Naaman Forest, and he has 506 all-purpose yards and four total touchdowns, tying him for most on the team with junior running back Viron Ellison (37 rushing attempts/266 yards). 
Despite the team's recent success, Odle continues to stress the "one game at a time" mentality. With Odle as the head coach, the Farmers have gone 2-3 against the Jaguars, but both wins came in the last two seasons.
"I would say it's a typical Flower Mound team," Odle said. "It's going to be a tremendous challenge." 
Current District 6-6A Standings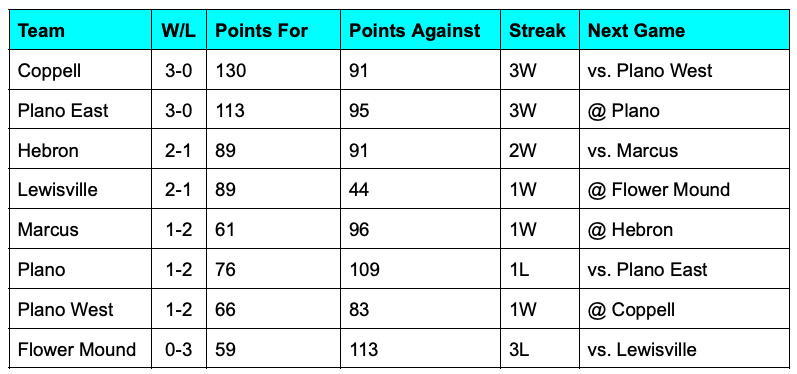 It's an important week for the district as teams begin their district schedules. Some of the more notable matchups include Marcus vs. Hebron and a rivalry game between Plano and Plano East.
Leave a Comment