An early advantage
Farmers and Wildcats to play for district lead
After escaping a defensive standoff against Plano West, the varsity football team (5-1, 3-0 district) will have the chance to play for an early District 6-6A lead when they take on the Plano Wildcats (4-2, 3-0 district).
The Wildcats opened the season 1-2 with fairly tough opponents such as undefeated Byron Nelson in their home opener. Since then, however, they've gained some traction in the district with wins over Plano East, Plano West, and most recently a 28-13 road win over Hebron. 
Through three weeks of district play, the Wildcats offense has scored the most points, with 91. Senior quarterback Drew Forkner has thrown for 836 passing yards and nine passing touchdowns, placing him among the district's most productive passers. Forkner has also scored six rushing touchdowns on 54 carries for 248 yards, adding to the successful run game alongside senior running back Kameron Jones, who has rushed for 694 yards and three touchdowns on 113 carries.
"We're gonna make [Forkner] have to beat us and not let his receivers do that," junior cornerback Jaydan Hardy said. 
Last week, Plano West (1-5, 0-3 district) challenged the team in their closest victory of the season, with a final score of 15-14. After the Wolves took a 14-10 lead early in the fourth quarter, it took a strong defensive effort to force a safety and have the offense drive down the field to give senior placekicker Freddy Joya the chance to kick a game winner. His 49-yarder with less than half a minute in the game did just that. 
"Every time we go [to Plano], there's always some type of adversity," junior running back Viron Ellison said.
The offense struggled as the Wolves defense forced three turnovers and found success putting pressure on junior quarterback Ethan Terrell, who could not find the endzone in 19 pass attempts with 140 passing yards. 
"Every day we're working to eliminate mistakes," head football coach Michael Odle said. "We'll see if we can play a clean game this week."
One constant success for the team has been Ellison's rushing efforts, as Ellison has now rushed for more than 100 yards in five straight games. His 807 rushing yards and eight rushing touchdowns are some of the best numbers in the district, and the team's strength at offensive line only improves what Ellison can do week in and week out.
"I play mad every game," Ellison said. "I'm never satisfied, and I'm looking to do better every game."
Both teams have found success on the defensive side of the ball. The Wildcats struggled on defense early in the season, but have allowed the second-least points (52) through three district games. The Farmers have allowed only 38 points in the span, and are still the only defense in District 6-6A to have allowed less than 100 points all season, with only 82 points allowed. 
Both teams have a "ball hawk" which is apt at converting errant throws into interceptions. For Plano, it has been junior cornerback Kavion Grady, who leads the district with five interceptions and has also helped his offense with 148 receiving yards on 18 receptions. 
Meanwhile, Hardy's teammate and fellow junior cornerback Tony-Louis Nkuba leads the team with three interceptions. The cornerbacks have combined for six pass deflections on the season, and Hardy has had moments in almost every game where the ball is just out of reach.
"[I feel like] our secondary is one of the best in the state," Hardy said. "This game, we're going to have a lot of pressure put on us, and I feel like we're going to show up."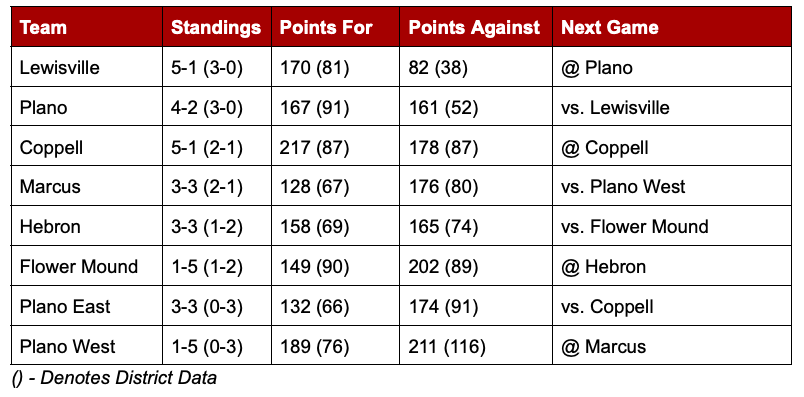 With Coppell's 38-14 victory at home against Marcus, the Farmers and Wildcats are the only teams undefeated in district play. Even with a district lead on the line, the team is treating this game like any other.
"We know we've got a tough opponent," Ellison said. "We have to be going there knowing it's a business trip."
Leave a Comment