Not finished yet
Farmers host Eagles to open playoff push
Returning as district champions for the first time in 21 years, the varsity football team (9-1, 7-0 district) prepares to host the Allen Eagles (7-3, 5-2 district). The Farmers will have home field advantage as the Eagles fell short of the District 5-6A championship, but they're not a team to count out. The winner of the bi-district game will go on to play the winner of Berkner-Martin in the Area round of the playoffs.
"Not many teams in Texas get to do this so it's just a blessing," senior tight end Lucas Sanders said. "Especially [in] my senior year, it's just good."
Allen finished the season with three losses, two of them to district opponents. The Eagles lost their season opener as they were tasked with playing the then No. 1 team in the country, St. John Bosco in California. Consecutive losses to eventual District 5-6A champion Guyer and runner-up Prosper left the Eagles in third place, but five of their seven wins came with 20+ point margins of victory. 
The Eagles offense is balanced thanks to junior quarterback Mike Hawkins who has thrown for 1,735 yards and 18 touchdowns while completing 57.3% of his passes. Hawkins has also added 376 yards and two scores as a runner, helpful for the Eagles who are now without junior running back Kayvion Sibley. Sibley led the team in carries (122), yards (995) and touchdowns (11) through eight games until he was sidelined by a knee injury against Guyer. Sophomore running back Micah Ellis has since taken over as the lead back and has rushed for 262 yards and four touchdowns in Sibley's absence.
Allen's defensive line has generated tremendous pressure, with senior defensive ends Zina Umeozulu and Brock Winsett combining for eight of the team's 20 sacks as well as 26 hurries. Junior middle linebacker Drew King leads the team with 101 tackles including six tackles for loss, and eight different players intercepted a pass throughout the season. Umeozulu also recovered three of Allen's seven total fumble recoveries during the regular season. 
"They're really good on that d-line," Sanders said. "That's the strength of their team."
Since a rocky 2017 season to start his head coaching tenure at his alma mater, head football coach Michael Odle has led the team to the playoffs in five straight seasons; the team has a 4-4 record in those playoff games and is coming off of their deepest playoff run since the 1996 state championship season, reaching the third round (regional) before falling to Southlake Carroll. 
"It feels good [to be back], especially after what happened with Southlake Carroll," junior wide receiver Dylon Myrow said.
The Farmers rushing attack has been the primary catalyst for the team's success primarily thanks to junior running back Viron Ellison's ability to navigate against one of DFW's largest offensive lines. Ellison averaged 7.21 yards per carry in a 31-17 win over Hebron and he finished the regular season with 1,112 yards and 12 touchdowns on 166 carries. Junior quarterback Ethan Terrell's scrambling ability has also served useful; he stands as the team's second-leading rusher behind Ellison with 595 yards and 11 touchdowns. 
"This is one of the best offensive lines that we've ever had," Sanders said. "We've got a lot of depth that we can go to."
The priority on the run game means Terrell has only thrown five passing touchdowns, but he has completed 61.2% of his passes so far. His top target has been junior wide receiver Lamar Kerby, who finished the regular season with 32 receptions for 386 yards and two touchdowns. Terrell also has a strong checkdown option in Sanders who has consistently converted receptions into substantial gains, averaging 11.3 yards per reception. 
"I feel like we haven't really passed much in the regular season," Sanders said. "If they're stacking the box, I feel like we should be able to throw the ball a lot."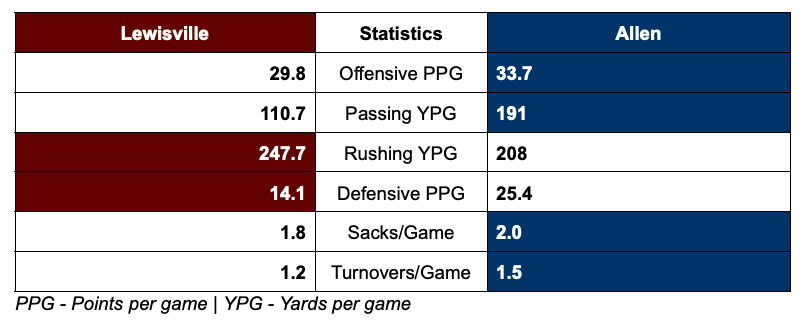 Allen hasn't played the team since the 2015 regular season when Allen was a member of District 6-6A. The Eagles, four-time champions between 2012 and 2017 have continued to make the playoffs in the time since, but haven't found the same success as the titular years. While the team is expected to be a strength of Region 1, injuries across the starting lineup and a tough schedule have eased the expectations.
District 6-6A's playoff teams will all be in for tough matchups; Prosper will host the Plano Wildcats in the 6A Division 1 bracket, where the Farmers host Allen. In the 6A Division 2 bracket, Marcus has a tremendous challenge in undefeated and nationally ranked Guyer while Coppell will host McKinney. As the team looks to win out despite the expectations, the coaches have given the team a mindset to carry through the tournament. 
"Why not us?" Myrow said. "Someone has to win it all, so why not Lewisville?"
Leave a Comment