Return of World Cup
FIFA's 22nd tournament arrives, set to present in Qatar
The Fédération Internationale de Football Association (FIFA) World Cup is officially back after four years since Russia hosted the last event in 2018. It will take place in Qatar, a nation that has never hosted it. 
It was decided to host the World Cup in Qatar ever since the vote happened in 2010, when Qatar and Russia were named the hosts of the 2018 and 2022 World Cups. It cost more than 220 billion dollars to build the stadium, hotels and team facilities.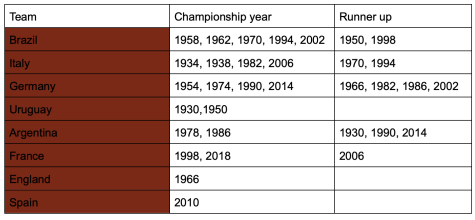 There have been many memorable moments in the World Cup including the hand of God (1986), Pele's first World Cup win at 17 (1958), Mexico defeating the reigning champions (2018) and No Era Penal against the Netherlands (2014). In 1958, Pele was the first teenage player to win the World Cup after they defeated Sweden 5-2.
In 1986, Diego Maradona faced England in the quarterfinals. Six minutes into the second half, the goal was made as a pass was made to Diego Maradona. The ball did not reach his head, and he used his hand to score. 
It was the 94th minute of extra time when Arjen Robben dived in hope of a penalty. A lot of fans said "it wasn't a penalty," for its video assistant referee (VAR) failing on live TV. In 2018, the reigning champion, Germany, faced off against Mexico in the group stage just to lose 1-0 to them. 
The FIFA World Cup schedule was released after the final draw in April 2022. You can find the matches here in English and here in Spanish. 
The FIFA World Cup will start on Sunday, Nov. 20 and will end on Sunday, Dec. 18.
Group A 
Senegal and the Netherlands are both top 20 teams while Ecuador and Qatar are top 50. Qatar, ranked 50th, has never qualified for a world cup before. Ecuador on the other hand participated in the World Cup, their last time being against Brazil in 2014. Senegal hopes to make it to the knockout rounds. 
Group B
Group B aka The Group of Death has high-ranked teams in it. It includes England ranked fifth, the United States ranked 16th, Wales ranked 19th and Iran ranked 20th. This group also contains one champion, a third place team and two knockout finalists. 
Group C
Group C contains Argentina and Mexico as top contenders. While the Mexican team is trying to recover from losing in the Gold Cup final and the Concacaf Nations League against the United States. Meanwhile, Argentina is trying to give Lionel Messi his world cup as this is his final world cup, same with Robert Lewendoski, who is from Poland. As their last world cups happen, there's some hope for each team. 
Group D
Group D is the same as Group C from 2018, minus Peru. France, the reigning champions, came back after defeating Croatia 4-2. Denmark has recovered after the incident with Christian Erikson in the summer of 2021. Tunisia is just sitting in the group and Australia tries to fight its way past Denmark and France. 
Group E
Germany and Spain are likely contenders to win since Japan and Costa Rica are there after Costa Rica's historic run in 2014 and Japan's big lead against Belgium in 2018. So far, Spain and Germany are the top contenders for this group. 
Group F
Group F consists of Belgium, who placed third in the previous World Cup. Belgium wants to fight its way back and wants to win it once and for all. Meanwhile, Croatia wants to make its way back to the final. Canada is back after 38 years of missing the World Cup. Morocco, who has had quite a history, has never made the knockout stage. 
Group G 
Group G consists of Brazil, Serbia, Switzerland and Cameroon. The five-time world champions Brazil, known as a top contender, hope Neymar can get his hands on the trophy while Shaquiri and Xhaka try to get a good place in this year.  
Group H
The memories come back now as Ghana faces Uruguay again while Ronaldo carries Portugal through this group. Luis Suarez will finish off his career with this World Cup in hopes of winning it all. South Korea is happy to be in the games. 
FIFA has released a World Cup predictor for fans to guess who will win it all.
Leave a Comment