NFL playoff primer
Breakdown of the 14 teams to compete in Super Wild Card Weekend
After 18 weeks of NFL regular season action, 14 franchises remain on the road to Super Bowl LVII on Feb. 12th in Arizona. Eight of those teams are newcomers who failed to reach the playoffs in 2021. 
The NFL playoffs have always delivered iconic moments and unprecedented contenders. Last season, the Cincinnati Bengals went from worst to first in their division before making the run to Super Bowl LVI, where they would ultimately fall short 23-20 to the Los Angeles Rams. 
In 2007, quarterback Tom Brady's New England Patriots had their undefeated season spoiled in a 21-17 loss to an unlikely champion in the New York Giants, led by quarterback Eli Manning. To this day, only the 1972 Dolphins have completed a perfect season in the Super Bowl era. 
The playoffs will kick off on Saturday, Jan. 14 when the San Francisco 49ers host their NFC West rival Seattle Seahawks.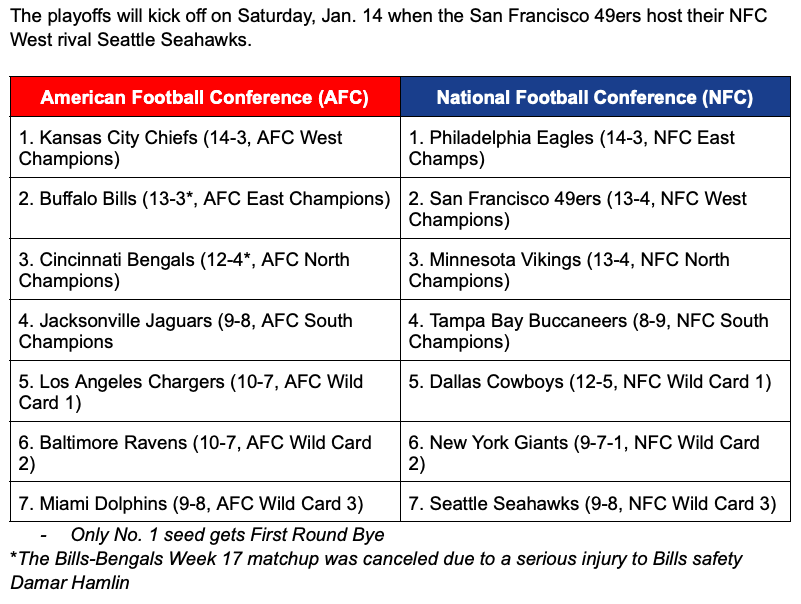 National Football Conference (NFC)
On Bye: (1) Philadelphia Eagles
The Eagles were 14-1 with Jalen Hurts as their starting quarterback this season. The offseason acquisition of wide receiver AJ Brown from the Tennessee Titans helped propel Hurts to Pro Bowler status in his third season as a pro. The defense also made a significant impact, recording a league-high 70 sacks. Undefeated until Week 10, the Eagles will likely shake off recent losses easily with Hurts returning from injury. 
(7) Seattle Seahawks at (2) San Francisco 49ers 
Playoff hopes went up in the air when injuries forced rookie quarterback Brock Purdy to start the remainder of the season; Purdy has since taken advantage of a talented group of receivers to extend the 49ers win streak to 10 games. While a rookie quarterback has yet to reach the Super Bowl, San Francisco's defense was the league's best, allowing league lows in points per game (13.6) and yards per game (300.6). They also have a Defensive Player of the Year candidate in defensive end Nick Bosa, whose 18.5 sacks led the NFL.
The Seahawks were left for dead by many after quarterback Russell Wilson was traded to the Denver Broncos. Instead, longtime backup Geno Smith elevated the Seahawks to a 9-8 record, completing a league-high 69.8% of his passes in the process. Rookies like cornerback Tariq Woolen, whose six interceptions were tied for the league lead, played a big role in team success. However, the Seahawks will miss key starters on defense, such as their tackle leader, linebacker Jordyn Brooks.
(6) New York Giants at (3) Minnesota Vikings
Head coach Kevin O'Connell brought the Vikings to an NFC North title for the first time since 2017. Wide receiver Justin Jefferson continues to smash records in just his third season, but quarterback Kirk Cousins has recently developed turnover issues. The Vikings defense also allowed 25.1 points per game, tied for third-worst in the NFL. This has led to blowout losses to the Cowboys and Packers which will haunt Minnesota going into the playoffs.
New head coach Brian Daboll ended a streak of five losing seasons for the Giants. Saquon Barkley finally avoided the injury bug which had limited him in previous seasons, rushing for 1,312 yards and 10 touchdowns. While quarterback Daniel Jones took steps in the right direction, the Giants offense is still reliant on their rushing game. Can Barkley lead the Giants' playoff push without a strong passing offense and injuries to defensive starters?
(5) Dallas Cowboys at (4) Tampa Bay Buccaneers
The Tampa Bay Buccaneers become the sixth team in NFL history to make the playoffs with a losing record, finishing at 8-9. Tom Brady had, to his standards, a down year. Even so, it's Tom Brady. The former sixth round pick made his career off of exceeding expectations, and he's a perfect 7-0 against the Cowboys. The Buccaneers defense isn't as grand as it was in their 2020 championship run, but it's still one of the NFL's better units.
The Cowboys offense has the talent to be the NFL's best, and was such when quarterback Dak Prescott returned from injury. Ezekiel Elliott and Tony Pollard more evenly split carries in the rushing game, and the Cowboys defense led the NFL in takeaways with 33. But America's Team is not flawless. Their most glaring issues are with Prescott, whose 15 interceptions are tied for most in the NFL. 
American Football Conference (AFC)
On Bye: (1) Kansas City Chiefs
Despite losing speedy wideout Tyreek Hill during the offseason, Patrick Mahomes led the league in passing yards (5,250) and touchdowns (41). A tandem running game including rookie Isiah Pacheco and Jerrick McKinnon balanced the Chiefs offense. Defensive tackle Chris Jones tallied 15.5 sacks for Kansas City, and the Chiefs still seem potent enough to reach their fifth straight AFC Championship. 
(7) Miami Dolphins at (2) Buffalo Bills
First year head coach Mike McDaniels got the team to the playoffs for the first time since 2016. The trio of quarterback Tua Tagovailoa and wide receivers Jaylen Waddle and Tyreek Hill combined for over 3,000 yards and 15 touchdowns, but Tagovailoa will miss the Wild Card game in concussion protocol. A young defense will have to play another competitive game against the Bills as rookie quarterback Skylar Thompson makes his second career start.
The Bills had to battle to retain their preseason status as a Super Bowl contender. It's easy when quarterback Josh Allen takes over games using both his arm and his athleticism, as he scored 42 total touchdowns. The offense will be at near full strength, but the Bills will be without veteran linebacker Von Miller and safety Micah Hyde on defense. 
(6) Baltimore Ravens at (3) Cincinnati Bengals
The reigning AFC Champions are in position to run it back, as quarterback Joe Burrow threw for 35 touchdowns despite a midseason injury to wide receiver Ja'Marr Chase. Even after the Bengals offensive line rebuild, Burrow is still among the league's most pressured quarterbacks, sacked 41 times. The Bengals defense isn't flashy, but the unit held opponents to 20.1 points per game and was seventh-best against the run.
Quarterback Lamar Jackson only played in 12 games for the Ravens, but he is still unlikely to play in the Wild Card game against Cincinnati. In the five games without Jackson, Baltimore has only scored four touchdowns, and his 764 yards still lead the team in rushing. The Ravens defense is one of only four to allow less than 20 points per game in 2022, but "defense wins championships" hasn't met offenses like the Chiefs, Bills or Eagles. 
(5) Los Angeles Chargers at (4) Jacksonville Jaguars
Jacksonville went from the bottom of the NFL to winning the AFC South in 2022. Head coach Doug Pederson had Super Bowl experience, and quarterback Trevor Lawrence greatly improved after free agency and running back Travis Etienne's return from injury. Linebacker Foyesade Oluokun put up a league-leading 184 tackles in his first season in Jacksonville.
The Chargers finally got over the hump and made the playoffs for the first time since 2018. Quarterback Justin Herbert again sat in second for passing yards, but the Chargers lost receiver Mike Williams in their last game against the Broncos. Inconsistencies and injuries on defense could hurt the Chargers as they face a capable Jaguars team. 
Leave a Comment