A win over the Plano East Panthers (5-3, 3-2 in District 6-6A) is all the varsity football team (6-2, 4-1) needs to solidify a playoff spot and second place in District 6-6A. 
"We've been working on getting ourselves together and losing our ego," senior wide receiver Julian Gonzales said. "If we set the tone by beating Plano East and Hebron, it'll give us a great boost going into the playoffs."
To avoid a thunderstorm which could delay the game, kickoff has been moved to 5:30 p.m. at Max Goldsmith Stadium.
The Panthers are a surprise team after finishing winless in district last season. The team is coming off of a 56-13 win over its crosstown rival Plano West Wolves (1-7, 1-4) in which Panthers senior quarterback Drew Devilier threw for 271 yards and five touchdowns. Sophomore running back Travis Agee is the team's leading rusher with 346 yards. 
"They've got a strong quarterback and an aggressive defensive line," head football coach Michael Odle said. "They're hungry since they didn't have a lot of success last year. They're fighting for a playoff spot and we're in their way, so we know we're going to get the best they've got."
Plano East's defense is statistically average at third in points allowed in District 6-6A, but has defenders who could cause problems for Farmer senior quarterback Ethan Terrell. Terrell was 4-for-10 passing for 32 yards and an interception against the Marcus Marauders (3-5, 3-2), recording season lows for completions and yards.
"Recently, we've been struggling in the pass game," Gonzales said. "Battle of the Axe was probably the worst passing game we've had, and it has definitely declined in past games. It has to get better during the playoffs because if we can't throw the ball then we won't go far."
Terrell was also sacked twice in the defense-dominated game, something unfamiliar behind the Farmers highly-touted offensive line. Panthers senior defensive end Chima Chineke is the primary threat with three and a half sacks and eight tackles for loss. 
"Going into the Marcus game, we knew it was going to be a dogfight," senior guard Xavion Davis said. "It put our discipline to the test, and I definitely thought we would score more. We need to be better about knowing details within our own plays and make sure we're doing our assignment."
The Farmers won Battle of the Axe 14-3 at Marcus. The final score is the least the offense has scored in a game this season. Senior running back Viron Ellison rushed for 137 yards on 24 carries, scoring both touchdowns. 
"It's a tough place to win and a tough team to beat, so we'll take it," Odle said. "Our kids played well enough to win in that second half. We overcame their physicality to come out on top."
The team's defense was crucial in the win, limiting Marcus to three points and forcing turnovers with the Marauders in scoring position. The Farmers finished the game with six sacks, two and a half credited to junior defensive end Sean Oliver. 
"We couldn't really get things going on offense, but our defense really stepped up," Gonzales said. "They're really important on our team, they play really hard and were ready for [Marcus]. We take special teams very seriously too, and we've been beating teams there recently."
Senior cornerback Tony-Louis Nkuba made noise in his return from injury, leading the team with 12 tackles, one for loss, a sack and two passes defended. 
"He's a solid corner out there that can do a lot of things," Odle said. "He played physical and created a lot of opportunities, not only for himself, but for other teammates, so it was really good to get him back."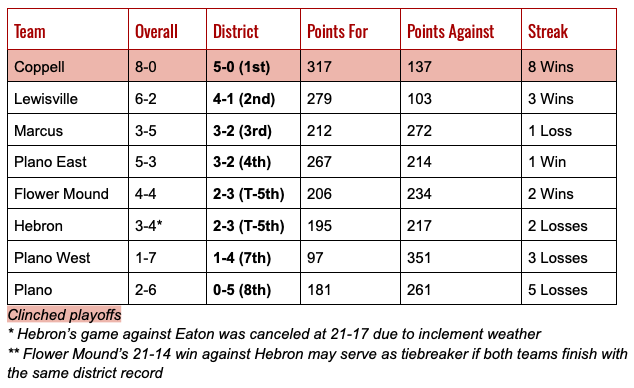 After last week's Battle of the Axe win, a "we want Prosper" chant broke out between the team and students. If the Farmers hope to avenge a 24-13 loss to the Eagles in last year's regional finals, the passing offense needs to return to midseason form and communication in all phases of the game between needs work. 
"We didn't execute quite as well as we wanted to last week," Odle said. "Defense and special teams made the biggest difference in that game. We've got to get better at every phase, off the field and on the field."