Questions about a usually strong defense arose after the Farmers 49-28 loss to the Coppell Cowboys (6-0, 3-0 in District 6-6A).
"We expect to dominate," junior safety Zephen Walker said. "Not just this week but every other week that we play a game, no matter who we line up against."
The varsity football team (4-2, 2-1 district) answered with a 57-6 rout of the Plano West Wolves (1-5, 1-2). Complemented by a strong defense, Farmers senior running back Viron Ellison's 157 rushing yards outgained the Wolves' entire offense (114 yards).
"We had penalties, but we didn't let that stop us from doing what we were supposed to do," junior guard Michael Fasusi said. "We have a lot of potential and there's still a lot of development to be done, that's for sure."
The team's next opponent, the Plano Wildcats (2-4, 0-3) are tied for last in District 6-6A after a 2-1 start in non-district games. The offense had to replace starters at skill positions, but has an offensive line with more varsity experience.
A running back tandem of senior Joshua Campbell and junior Sergio Burrusquieta has led the offense through three district losses, rushing for a combined 522 yards and seven touchdowns. Despite the prominence of running the ball, the Farmers defense is expecting the Wildcats to opt for a passing offense instead of challenging the team's run defense. 
"They're going to try and take the top off and test our DBs," Walker said. "We haven't really been that tested all year and they know our run defense is up there."
Wildcats senior quarterback Jack Thomason has been limited to 44% completions and no touchdown passes in district games, but he is currently the Wildcats third leading rusher behind Campbell and Burrusquieta. 
The Wildcats experience is on defense, led by senior linebacker Jeff Sekula, who is the current tackle leader and has recorded a sack. He's part of a Plano front seven that will have to figure out how to slow down Ellison and the Farmers dominant offensive line. 
"Defensively, they're pretty fast as per usual," Fasusi said. "They're going to be focused on passing since we can win the trenches, and they're going to have to beat us on the line of scrimmage."
Ellison leads the charge for the Farmers offense, scoring eight total touchdowns over the last two games. During the first drive against Plano West, Ellison took direct snaps as the offense leaned on rushing. Walker entered at quarterback during the first drive before senior quarterback Ethan Terrell took over, throwing two passing touchdowns.
"It was something that we wanted to keep on the low," Walker said. "We had planned for Viron to step into the first drive at QB, and that I'd step in on any third and longs if I needed to throw a pass or run it, just to throw the defense off."
The Farmers were able to dominate every phase of the game including special teams; senior defensive back Jaydan Hardy scored an 82-yard punt return touchdown. He and junior cornerback D'Angelo King's returns gave the Farmers offense good field position several times. 
"All week was very intense on kickoffs and returns," King said. "All of the special teams plays were very intentional."
Aggressively, the team also attempted four pooch kicks while in the lead, recovering two of them. 
"We knew we would be able to dominate the other side with the pooches and returns," Walker said. "It should be consistent through upcoming games as well."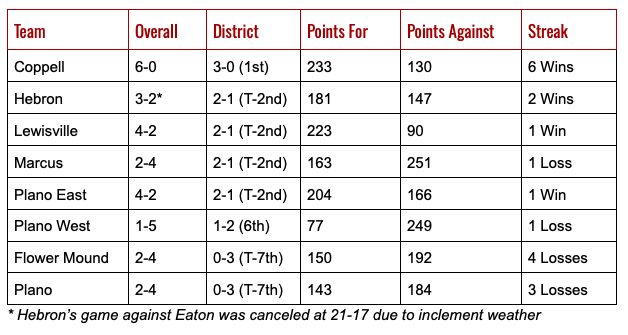 Dominance is the standard for the Farmers heading into the final four games of the regular season. With Coppell holding sole possession of the district lead, the team is only looking to win out and give itself the best start heading into the playoffs. 
"The plan is just doing our job," Fasusi said. "No matter how good they think they are, we're just going to prove that we're better and come up on top."