Twisting into a new hobby
Sophomore Kiera Conner learns about struggle of being a self-taught contortionist
The lights are dim as she steps onto the stage. She takes a deep breath, taking a couple moments to focus on her breathing and get in the right mentality. As the music fills the auditorium, she forgets about everything causing her stress. She channels all her emotions into her act.
After watching Sofie Dossi's contortion act on America's Got Talent, sophomore Kiera Conner became interested in the art of contortion. The sport focuses on twisting and bending her body into different poses. Not knowing where to start, Kiera did a YouTube search where she found contortionists who gave advice to those wanting to learn the art. From there, she began learning the basics and fell in love with contortion.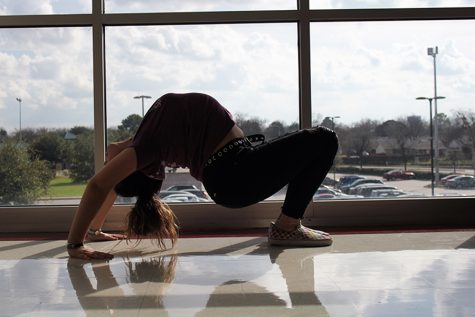 "When I was little, I saw [contortion] as something I could never do because the people that did it had trainers and a lot of experience," Kiera said. "That changed when I figured out that you don't need a professional to learn, especially with the internet access we have today."
There was an initial shock when Kiera told her mother, Anne Conner, about wanting to learn contortion. Despite having concerns about safety, Anne pushed Kiera to try it and see if the sport was something she would enjoy.
"I was surprised and I told her to just check and make sure she does things safely," Anne said. "I encourage her to do things that she is passionate about. She likes to learn new things and excel at whatever she tries."
Despite her passion for contortion, Kiera is constantly faced with a challenge. She has only been doing contortion for a year and unlike most sports, which require a coach or trainer, Kiera is self-taught, meaning she learns most of her tricks through videos and at her own pace.
"Sometimes [being self-taught] is difficult," Kiera said. "You don't have anyone to tell you if you are doing something wrong or right, I have to figure it out myself. I also have to keep myself motivated because I don't have a coach that's making sure I practice."
Contortion is not a common hobby, so few people truly know about the sport and all the hours that go into training and the control that one must have in order to do the poses and tricks. After seeing Kiera perform and talking to her about contortion, close friend sophomore Alisophia Gomez has a newfound respect for the art.
"I used to find contortion weird, but now I find contortion to be so interesting," Alisophia said. "Before, I didn't really think about how much work goes into what she does."
"
I see it as an opportunity to learn. Practice and repetition are also very important. When you fall, get back up but at the same time know your physical and mental limits.
— sophomore Kiera Conner
Although the performances are limited to talent shows, Anne is always overcome with emotion when she watches her daughter perform. She recalls watching her daughter practice and seeing everything come together on the day of Kiera's performances.
"I am always proud of her," Anne said. "When I saw her perform for the first time, I felt very proud considering her first performance she had learned just from watching YouTube for about a month."
Since beginning contortion, Kiera has become aware of self motivation and how it allows her to reach her goals. She knows more challenges will come but is ready to continue pursuing what she loves. Although contortion isn't her career choice, Kiera appreciates everything she has been able to learn through the sport.
"[Contortion] means bending my limits, but not too far, and pushing myself and believing in myself," Kiera said. "I see it as an opportunity to learn. Practice and repetition are also very important. When you fall, get back up but at the same time know your physical and mental limits."
Leave a Comment