Review: Diving into 'Dimension'
ENHYPEN released first repackaged album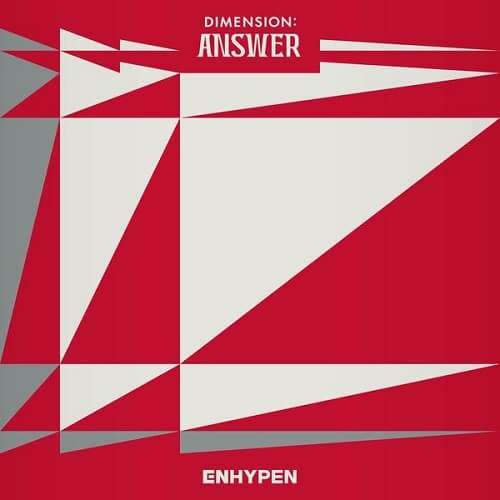 Fourth-generation K-Pop group, ENHYPEN, started off the new year with the repackaged album "DIMENSION : ANSWER" that surprised fans with the continuation of an era. On Jan.10, the album was released with a total of 11 tracks which additionally introduced two new songs and an outro.
In this album, ENHYPEN speaks about the struggles society has about taking the next step in life, breaking free from boundaries, and "the cheesy feeling of love" all in one. From a hype, upbeat feeling to a soft and mellow tone, they continue to surprise their audience with powerful bursts of emotion that can motivate anyone to do anything they put their mind to.
Their two new additions to their discography come into play in tracks nine and 10 which help bring a close to the album and aids in ENHYPEN's message. These new tracks may be in the ending fields of the repackage, but should not be underestimated. 
"Blessed-Cursed," track nine, was chosen as the title track and sets the vibe to the album as a whole. With its rock and hip-hop undertones, ENHYPEN speaks about setting themselves free from current mindsets and wanting to live without anyone holding them back. This track in particular speaks to current society in terms of struggles with anxiety, fear of the future and the want of approval from strangers. "Blessed-Cursed" has a similar feel to their previous album's title track "Tamed-Dashed" but has a completely different meaning behind it.
Along with its success, a music video was released of the song "Blessed-Cursed" on YouTube that displays phenomenal choreography, flashing colors, and visuals that fit the personality of the band entirely. 
ENHYPEN takes a complete turnaround in genre when it comes to track 10, "Polaroid Love," which has a bright and lively feel. The fan-favored pop song speaks on the confused feeling of love and the constant questions society has when experiencing it. Lyrics such as "But why is my heart thumping" and "It's not working my way" portray the blurred feelings some may experience while having romantic feelings for someone. 
Since the amount of adoration "Polaroid Love" had received was growing, the song blew up on TikTok in just a flash of a camera. Users who are fans of the band in particular have created a simple choreographed dance that can be performed by anyone hence its simplicity. The dance was created by "reeeiner" on the app and did an amazing job on the self-made choreography. Overall, the new trend is exceptionally adorable and provides the same heartfelt vibes "Polaroid Love" has represented.
From the band just debuting in 2020, they have grown immensely in the K-pop community and were awarded 'Rookie of the Year' during the 2021 Asia Artist Awards. 
ENHYPEN has done an amazing job with their first repackage and has left the fandom stunned in awe from the visuals and vocals they have received. Many tracks on this album will continue to be set on playlists from thousands of members of the community. "DIMENSION : ANSWER" was a groundbreaking first look at ENHYPEN's future and is a well-deserved 4.5 out of 5.
Leave a Comment