Facing a pandemic
COVID-19 hits North Texas, frightens public
Discovered in late 2019, COVID-19, commonly known as Coronavirus, has infiltrated over 100 countries in four months. The virus was declared a pandemic on Wednesday, March 11 by the World Health Organization. Originating in Wuhan, China, it continues to spread from Italy to Brazil. Several events have been canceled or postponed because of the virus, including SXSW, Coachella, multiple concerts and the NBA suspending its season. 
This novel coronavirus has seen the largest spikes in China, Italy and South Korea. The latter, however, has seen a slow decrease in new cases. Northern Italy has been put under a special quarantine as they have reached over 10,000 cases. The government proceeds to close down all schools and prohibiting gatherings of any kind. As the United States reaches over 1,000 cases, the fear of similar instances are instilled in Americans as well as the small possibility of death which comes with the virus.
"The most people that are dying are old," anatomy and physiology teacher Kelly Lancaster said. "Unless you're over the age of 60, you really don't need to worry about dying, you just need to worry about spreading it."
"
[For] me on a personal level as a citizen, I'm just trying to do the usual things I would do during flu season."
— PrimaCare Medical Center certified physician's assistant Sarah Groce
While the symptoms of the virus are closely compared to the flu, people find it difficult to differentiate the two. Symptoms for COVID-19 include fever, cough and shortness of breath. While these can be mild, they can develop into further respiratory illnesses.  
"The biggest complication is that it can easily cause viral pneumonia," PrimaCare Medical Center certified physician's assistant Sarah Groce said. "[That] makes it difficult to breathe [and if] not treated successfully, [causes] organ shutdown."
As COVID-19 infiltrates more countries, the conversation about hygiene increases. With no cure or preventative vaccine available, healthcare professionals stress washing hands consistently is the best way to protect the spread. Additionally, advice for people who feel sick includes staying home and wearing protective masks. In its efforts to keep new cases low, LISD has sent out information regarding spring break travel. They ask any staff or students visiting places like Italy or China, or going on a cruise, to self-quarantine for 14 days upon returning to the United States.
"My particular facility has flowcharts in place [that say] what to do if somebody comes in, which protective tools to use as far as masks and gowns and things like that," Groce said. "[For] me on a personal level as a citizen, I'm just trying to do the usual things I would do during flu season."
As cases of COVID-19 continue to pop up around North Texas with three confirmed in Collin County and three others in Dallas County, fear rises locally. Walmarts and corner grocery stores are running out of necessities such as toilet paper and hand sanitizer while people are also buying masks in large quantities. Groce is concerned with the bulk buying in relation to her office now being low on certain supplies.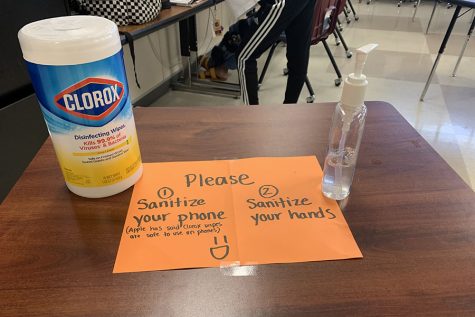 "People are now buying up supplies medical providers need," Groce said. "We are on backorder with a lot of the things we need because citizens who are scared [keep] buying things, stocking up on things they don't actually need [and] making it impossible for people who do need them [to get them]."
Paired with the fear of running out of supplies, xenophobia, the prejudice toward Asians, has seen a rise in recent weeks. Businesses run by people of Chinese or Asian descent are facing a drop in sales due to the public's fears. Galvez thinks passionately on this subject, believing social media has a high influence. 
"There's a lot of fear tied to outbreaks like this," Galvez said. "A lot of people are [saying] 'I don't want to be around Asians. I don't want to be around Chinese people. I don't want to be around this,' because fear is a gateway for prejudice and racism, [the two] basically strive in fear. That mindset has been really prevalent. People aren't really looking for the correct sources."
As the illness continues to spread to new places, it's slowing down in other high priority areas. Communities continue to enforce hygiene and hyperawareness of COVID-19 in preparation for outbreaks in their areas. Test kits continue to be delivered as the demand increases. In the meantime, people are advised to wash their hands and go seek medical help if any signs of the virus become noticeable.
"It's making [the local community] both more conscientious on hygiene," Galvez said. "I think a lot more people are getting used to actually washing their hands properly, and it's going to help us lower the risk of any other sort of bacterial or viral infection. In the same sense, it's very mind-numbing to some people."
Leave a Comment