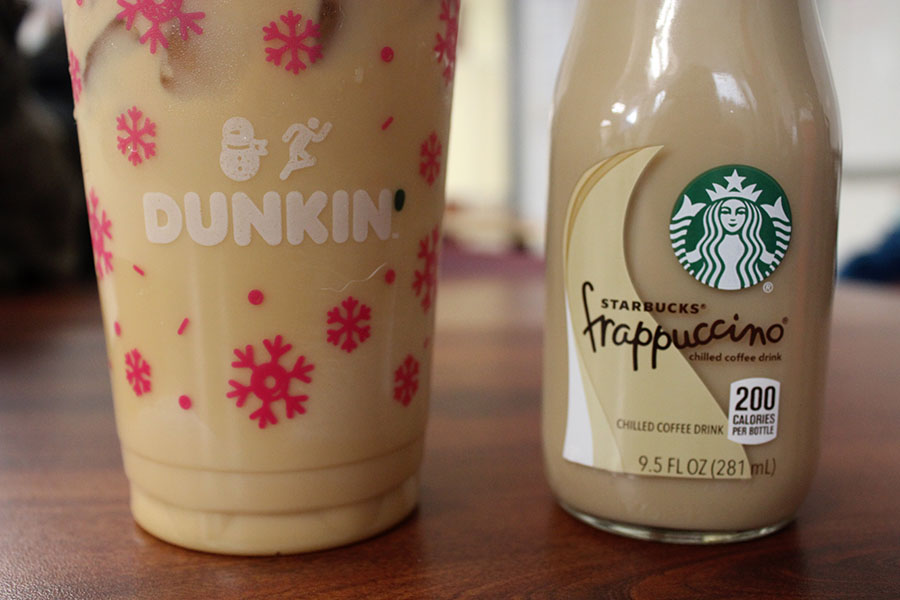 Comparing coffee
December 2, 2019
Dunkin' on Starbucks
Fast-food chain Dunkin' Donuts was established in 1950. From the company's beginnings, it has been dedicated to serving high-quality coffee and donuts at a low price and in a timely manner. Now, Dunkin' serves delicious coffee and various breakfast foods efficiently for a fair price.
The food served at Dunkin' includes donuts, donut holes called "Munchkins," breakfast sandwiches and other pastries, such as croissants and muffins. The donuts served are always fresh and taste delicious when paired with a cup of joe. The donuts also come in 12 different flavors, not including seasonal options, with availability varying for each store. This level of customization is rarely seen elsewhere and is part of what makes Dunkin' so special.
While Dunkin' offers less variety in its specialty lattes than Starbucks, Dunkin' offers the same quality, if not higher. Customers are able to fully customize their drinks from the blend of coffee, to the milk option used, to the flavoring and sugar added in. Starbucks, however, relies on its preset drinks, forcing customers to have to request for changes in the original recipes when ordering. Not having to edit a pre-existing order at Dunkin' saves customers the hassle of explaining what they want in their drinks.
Buying coffee at Dunkin' is far cheaper than a coffee from Starbucks is, and customers at Dunkin' get a better value than Starbucks customers. In a medium drink at Dunkin', customers receive 24 oz of coffee and pay $2.49, while at Starbucks, a grande drink has 16 fl oz and costs $2.45. Even the large drinks at Dunkin', which hold 32 oz of coffee, cost $2.69. Venti drinks, the largest size offered at Starbucks, holds 20 oz and costs $3.35. The price differences alone should sway avid caffeine addicts to switch to Dunkin'.

Loading ...
Dunkin' Donuts customers can take advantage of numerous options for discounted drinks and food items. For example, during football season, if the Dallas Cowboys win their game, Dunkin' offers free medium iced coffees the next day. Additionally, from 2 to 6 p.m., customers can purchase medium espresso drinks (lattes, cappuccinos or americanos) for $2, rather than for $3.39. For food, Dunkin' currently offers 10 Munchkins for $2, almost half off the regular price.
Overall, Dunkin' Donuts is the superior coffee chain because it gives customers amazing coffee for a bargain price point. The affordable, yet delicious, food and drinks offered shine over its competition. Combined with the consistently speedy service time, especially when compared to Starbucks' lackluster drive-thru times, Dunkin' is impossible to beat. After all, America does run on Dunkin'.
Leave a Comment
Starbucks is the true star
Starbucks, one of the world's largest food chains with nearly 14,300 locations across the United States, can be found at almost every corner. After serving its first Frappuccino in 1995, Starbucks quickly began to gain popularity. Now, the food chain continues to offer its clients with ethical, high-quality coffee.
Despite what most people think, Starbucks has four available cup sizes, including tall, grande, venti and trenta. The 31-ounce cup, trenta, can only be used for cold drinks, such as iced teas and lemonades, and costs $3.45. While Starbucks' prices are higher, customers are paying for higher quality coffee, as all the coffee is 100% ethically sourced. Although it can become expensive, drinks can also be completely customized depending on the customer's wants or needs.
Unlike Dunkin' Donuts, Starbucks has an extensive menu, offering more than coffee and donuts. Although it is primarily known for coffee, it also provides customers with a wide selection of non-caffeinated beverages, including iced teas and multiple variations of the Refreshers. The Refreshers are made with real fruit juice and can come with or without green coffee extract. While pets are not allowed inside the stores, Starbucks also offers a dog treat called the "Puppuccino," which is a small espresso cup filled with whipped cream.
Apart from the outstanding drink possibilities, people of all ages buy drinks from Starbucks on a daily basis. Students enjoy sitting at Starbucks throughout the week to study and complete their school assignments. The availability of free WI-Fi attracts adults trying trying to work while enjoying a good cup of coffee.
Depending on the season, Starbucks also offers specialty drinks such as pumpkin spiced lattes and eggnog to introduce a nice twist to a regular coffee order. Along with delicious drinks, Starbucks has numerous food options, including, but not limited to baked goods, breakfast sandwiches, wraps and pre-packaged to-go snacks.
Caffeine addicts are always looking for a way to save money on their high-quality coffee. After becoming a Starbucks Rewards member, customers are able to get free refills on fresh-brewed coffee and tea during the same visit. As customers accumulate reward points, called Stars, they can also earn free food and drinks. Rewards members receive a free drink of their choice on their birthdays.
Overall, these factors contribute to Starbucks being superior. Some may think America runs on Dunkin', but numerous people prefer paying a few extra dollars for Starbucks' quality. Despite the products being pricier than other coffee chains, the quality and variety of coffee along with their other drinks make up for it. Starbucks is helping people get their coffee one person, one cup and one neighborhood at a time.

Leave a Comment