Passing last year's expectations
Girls' soccer team sees improvements, works for more
After ending the previous season with a record of 6-10, the girls' soccer team worked throughout the offseason to set a solid foundation for this year. After a 2-0 win on Tuesday, Jan. 7 against Weatherford High School, the team's overall record currently sits at 3-2.
The team has faced challenges such as having a newer coaching staff and a team of underclassmen, but its perseverance and bond has allowed the team to work well together in games.
"We're a young team, we only have one senior," junior Adamaris Manjarrez said. "This is Coach G's second year coaching us. Overall, we've been playing really well. We're like a close family."
The players value the power of cooperation and want to take advantage of each team member on the field during every game. With the improvements in communication the team hopes to achieve, the players will be able to show what they're capable of.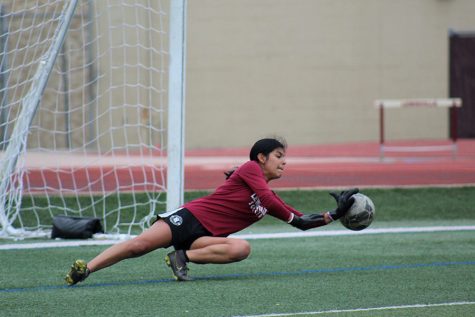 "The team's biggest strength is working in numbers," junior Victoria Sibounheuang said. "As long as everyone takes care of our job, the [individual] jobs are easier. I think rather than talent vs. talent, it's hard work vs. hard work."
This year, the bond is improved and serves as an asset on the field. Since the players have strong relationships, they are able to learn each other's playing styles and work efficiently together in games.
"We possess the ball really well," Manjarrez said. "We're really close, so we know each other really well and we can play really well together."
This season, the players plan to make improvements in maintaining their energy and enthusiasm throughout the game. They also want to increase communication during games so they can work together.
"We've built a lot from last year's season," Sibounheuang said. "We're still learning to be consistent as a team. We're all working on consistent intensity."
The team is set to play a home game against Kaufman High School on Thursday, Jan. 16. Throughout the season, the team plans to focus on day-to-day improvements, both on and off the field.
"Ultimately, it's just about being better than the day before," girls' soccer coach Jason Gaglione said. "Taking playoffs out of the picture and looking at the team from the internal side, our goal is to be better day by day."
Leave a Comment