Chasing her dream
Senior softball captain Allie Barentine signs to The University of Texas Permian Basin
With an athletic stance, she waits to attack the ball in hopes of hitting it the right way. As she hits the ball, she runs, focused on nothing but the breeze of the wind. As she looks up to everyone cheering at the home run she scored, she smiles at the thought of leading her team to victory.
Senior softball captain Allie Barentine signed to The University of Texas Permian Basin where she hopes to pursue her love of softball. After playing for 11 years, she was set on achieving her dreams of playing Division I sports ever since she was a kid.
"I feel like I lead by example and not just yell [at others]," Barentine said. "I lead by example and show what needs to be done and help others."
Although softball is her passion, she plans to pursue kinesiology, the study of the mechanics of body movement to later become a teacher, athletic trainer or coach as she believes she has the skills to mentor and help others as well.
"She's a great leader," softball coach Lori Alexander said. "She's solid offensively and defensively, she's an all-around player, kind of a utility player. She can catch, play first, play second, anywhere we need her."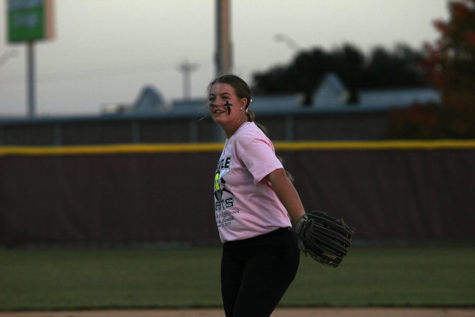 Leaving home presents a new set of challenges as she will move five house more away from her friends and family. Senior Morgan Muller, good friend of Barentine, plans to support her no matter where they are. The two of them continue to make plans together before they both leave for college.
"[I'm going to miss] seeing her every day," Muller said. "[They chose her] because she's always taking control. She's a really good leader and she's always there for the players."
While Barentine will miss her friends, she is prepared to grow and become a better player in softball for her future career, as well as make her parents proud by being the first college athlete in her family.
"[Allie is] accountable for herself," Alexander said. "She pushes herself to work hard every day, [and is] just one of those kids you don't have to ask them two times to do something."
Barentine keeps her family and friends in mind as motivation to achieve her goals. She will push past the unfamiliarity of college and go on a journey of accomplishing new goals for herself and make others proud.
"[I'm proud of] how far I've come and all that I've achieved," Barentine said. "My mom and dad [are my inspirations] because they've pushed [me] so hard and they make me strive to do better."
Leave a Comment