Weaving new solutions
10-year-old entrepreneur wins $300 at Lewisville Soup
After a four-minute presentation on her company, 10-year-old entrepreneur Averie Cooper ended her speech with an ear-to-ear grin and a round of applause from the audience. She sat down at her table, surrounded by family and members of the Lewisville Soup community. She shook the nervous energy off her mind while playing with her rainbow loom bracelet and smiled, feeling proud of herself for completing her presentation without a hitch.
Averie's business, Color Kingdom, and its product, B-Bands, grew as a result of a need she saw in the community around her. After researching methods to relieve stress, she discovered acupressure, the method of reducing tension through applying physical pressure to points throughout the body which block blood flow. Averie decided to use acupressure to attach charms and beads to rainbow loom bracelets to help reduce anxiety levels.
"I started my business because I used to have a lot of anxiety and stress," Averie said. "I just sold regular rainbow loom, but then my mom and I figured out that B-Bands would help a lot of people. I was telling my mom about my idea and she said it was a real thing. Then she showed me her acupressure bracelet."
"
[Color Kingdom] helps me to know what it's like and how much stress it could be. I can see how easy or difficult [owning a business] could be."
— 10-year-old entrepreneur Averie Cooper
At the end of the Lewisville Soup meeting, Averie was announced to be the winner of the $300 collected that night. She plans to invest the money into growing her business through purchasing materials and utilizing new advertising methods. She will use this to reach new clients and open new avenues for growth.
"[I will use the money] mostly for my website, but I will also use it to buy the charms, bands and beads," Averie said.
Upon starting her company in 2017, Averie hadn't discovered the specific issues her rainbow loom bracelets could solve. She initially saw Color Kingdom as an opportunity to make crafts she could enjoy with people in her community.
"I saw it as more of a hobby because I enjoy making the bracelets," Averie said. "I'm just a crafty person and I love rainbow loom."
Averie is determined to run her business independently. Her mother, business teacher Valerie Cooper, acts as the facilitator to Averie's company, only helping Averie when she truly needs it. At the presentation at Lewisville Soup, Valerie only helped Averie by pressing the "next" button on the slideshow.
"There's really no stopping her," Valerie said. "She's headstrong. She looks it up and pays for everything upfront with her own money, so all I have to do is be the person that hits submit on Amazon or takes her shopping to get the items."
The presentation aspect of Lewisville Soup meetings helps entrepreneurs like Averie gain communication skills which are frequently utilized in the business world. Averie also received support from the community and will be able to build a network of people to support her and answer business-related questions as Color Kingdom grows. The experience on Friday, Sept. 13 allowed for Averie to build pride in her ideas and company vision.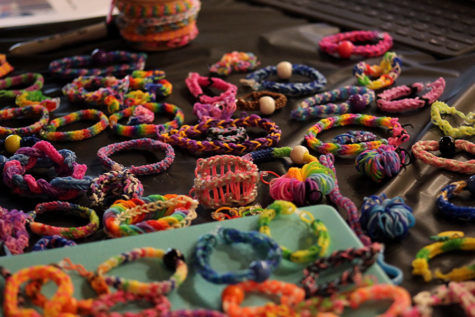 "Any time someone can be in a public speaking experience, it's gonna boost their confidence," art teacher Nicole Franczvai said. "Having the support of not only her family, but also the community, is a pretty huge deal. It's a great step for her to practice ideas and get them out there."
Through running her company, Averie learns skills which she believes will be helpful to her future. Her dreams of becoming an entrepreneur as an adult are more realistic because she gains real-world experience in financing, advertising and business management.
"I want to be an entrepreneur," Averie said. "[Color Kingdom] helps me to know what it's like and how much stress it could be. I can see how easy or difficult [owning a business] could be."
View Comments (1)