Producing a podcast
Senior Jimmy Piraino gains experience in media through creating talk show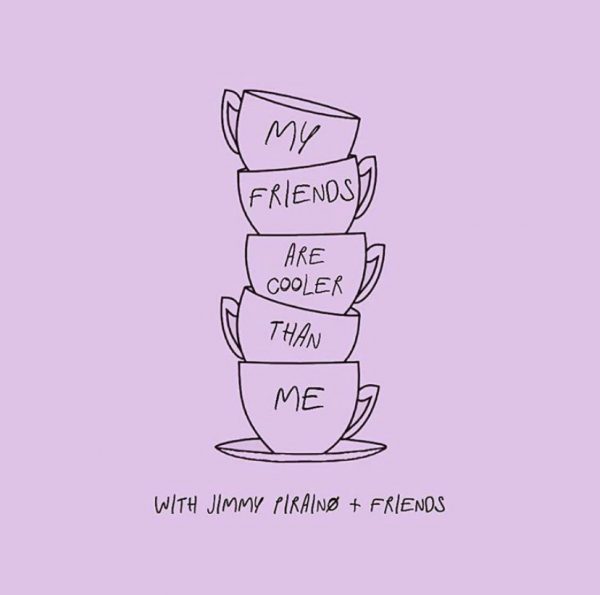 His daily routine is grueling.
Because he has first period off, school doesn't start for senior Jimmy Piraino until 9:55 a.m. After that, his day is a gauntlet. Classes, many of which are AP level, until 3:35. Theater rehearsals until 6:30. On top of all that is, of course, homework.
In order to focus on the worksheets and assignments ahead of him, he has to have a distraction-free environment.
Without thinking twice, he sets himself up to listen to his favorite podcast, "Dynamic Banter."
Headphones in. World out.
As he gets to work, the thought crosses his mind briefly: what if I made my own podcast?
Senior Jimmy Piraino decided to create his podcast, "My Friends Are Cooler Than Me," on a whim in December of 2019. Inspired by other shows such as "Teenager Therapy," he wanted to pursue his own casual, interview-based podcast.
"I like that there's something in it for everyone because every episode is different," Piraino said. "Every episode is a different person talking, which I think is really cool. I think it's just nice for people our age to hear people who are also our age."
The cover art for the podcast was made by Piraino's friend, senior Sophia Cauduro. The inspiration for the coffee mug graphic was to create a calm feel for anyone who stumbled upon the podcast.
"I really wanted something really homey because with the layout of how we record, we just sit on the floor with a mic in the middle," Piraino said. "I wanted something really comfortable. That's why we did coffee mugs so it's like people talking in a coffee shop."
Piraino and his guests don't plan out a script or even topics to cover before pressing record; they simply press record and allow for conversation to ensue naturally. While this can feel nerve-wracking at first, the guests quickly warm up to the relaxed atmosphere Piraino creates.
"[Before we started], I didn't know what I was going to talk about," senior James Thang said. "I didn't know how podcasts worked. After we started talking, I just felt comfortable. It was laid back and chill. Nothing to be nervous about."
Thang believes having experience in producing a media element like a podcast will help Piraino develop skills which he will need in his career. From recording to uploading, the process of hosting a show prepares him for working in the media industry in the future.
"It's really cool," Thang said. "He wants to eventually go into film and filmmaking so this is a good step to have some of the control to direct and work around. It's a good starting point."
With both advertising done by Piraino via social media and word-of-mouth, the news of "My Friends Are Cooler Than Me" spread throughout the school and to other schools in the district.
"When the first episode came out, everybody was talking about it," senior Michelle Clyburn said. "Honestly, even though I was a little uncomfortable about it, [the best part was] people coming up to me and being like 'Oh, I really liked the episode.' I really appreciated that, [but] it was so strange. I felt like I was just having a conversation with Jimmy, but now people have heard it."
Piraino's pursuit of a career in acting requires him to have a reputation in order to find work. The podcast helps him put himself out there and build his portfolio. As he develops his skills in media during college, the experience gained from the podcast will give him advantages over his peers.
"I think he really is making something with it, so that's cool," Clyburn said. "A big part of the industry both of us are going into is making a name for yourself, not just as an actor but as a person, too, so what he's doing right now is really smart."
The reactions Piraino receives from his friends keep him motivated to continue creating "My Friends Are Cooler Than Me." Hearing stories of people listening to the podcast and feeling joy is the reason he puts it out.
"That's why I do it," Piraino said. "I want it to be something comfortable that someone can listen to and feel happy. What's going to keep me doing it is people responding that way. I just want to make someone smile."
Leave a Comment