Cardboard trinkets of a pitchfork and a Big John mascot lay scattered across room D110. Students, wearing aprons littered with splashes of paint and ink, plot how the next maroon and white ribbons should be crafted. Paper flowers cover the gray countertops and a giant teddy bear, dressed in a jersey and a Farmerette skirt, sits off to the side while students are hard at work on, literally, the biggest project of the year.
Fashion design teacher Abby Winston works with her students to break the Guinness World Record of the largest homecoming corsage. Sherry Hall and the Arlington special education department from Arlington ISD hold the current record with a mum measuring 11.073 square meters–nearly 120 square feet–from Aug. 16, 2021. Winston dedicated this project to spreading school spirit and leaving her students with something to be remembered by.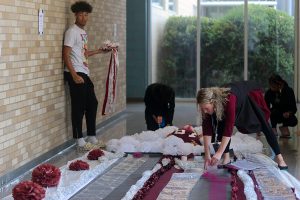 "I thought [the mum] would be really cool for the school," Winston said. "It would be a way for the juniors and seniors now to make a mark for Lewisville High School, a part of the long maroon line. I wanted to give [the students] something; I wanted the school to get the recognition, and I honestly just love doing crafts."
To break the world record, Winston's mum will need to be analyzed by an accredited surveyor and contain written statements of two eyewitnesses who aren't affiliated with the school. Winston plans to lay the finished corsage out on the arena floor to be measured, which will need to be videotaped. The project due date is set for Thursday, Oct. 12, and until then, students will continue to participate in the mum process.
"[Students] have been really enthusiastic about it," Winston said. "Once the word got out and their parents heard about it, they were ready to go. Then some that were a little hesitant at first really jumped all in. It's a fun hands-on project for them to do in class, and essentially it's boosting their school spirit." 
The mum is crafted using wood and chicken wire as a base while duct taping the ribbons together, later zip tying them to the chicken wire. Students work in groups to help ensure the mum exceeds the previous record.
"[Teamwork] makes things go smoother," junior Terrence Hadley said. "For one person they have to get paint, mix the colors and do the formatting. When you have other people doing those other tasks, it makes it easier."
Winston has worked alongside incubator teacher Nicole Franczvai and family and consumer science teacher Blair Green to make this project possible. Winston plans to send ribbons to each second period classroom, so every student at the high school has a hand in the project. Being included in the project has given students opportunities to make marks on their community.
"I always try to get involved in school activities," junior Ella Walker said. "I thought this would be really cool because it's going to make a big impact, and it would be cool to be a part of something big."
Throughout this experience in trying to break the Guinness World Record for the largest corsage, Winston hopes her students will carry these memories from high school with them as they prepare for their next steps in life. 
"I hope they take away a sense of pride," Winston said. "That they were involved in something bigger than them and they take that pride with them when they leave. Lewisville is such a special place."