Designing victory
Senior Anna Cantu wins first place in costume design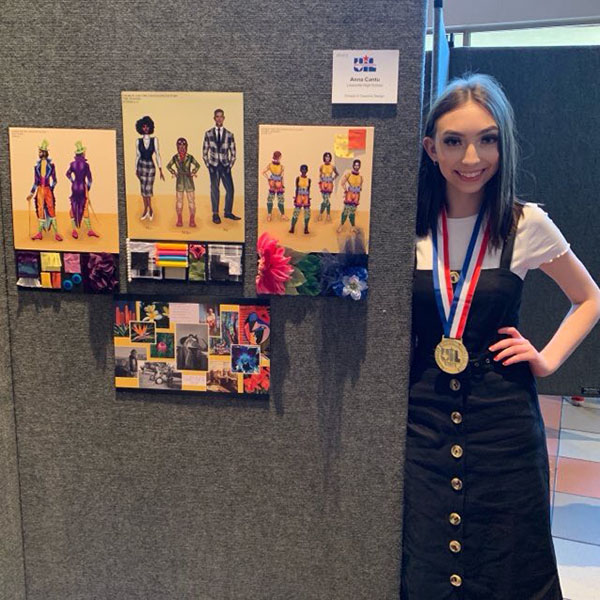 With only four students competing in the theatrical design UIL state meet on Thursday, April 25, senior Anna Cantu won first place in the costume design category. After a year of preparation and studying, Cantu felt accomplished of all the work she put into her piece.
"They basically gave us a prompt [and] you pick your category," Cantu said. "Then you follow the prompt with rules that are in your category. I did costume design and follow what they set up for costume design for the prompt. I felt really good, really proud of the work I put into it and I felt like it paid off."
Students can choose from make up design, costume design, set design or marketing when competing for UIL. If the students advance to state, they have the opportunity to change details based on judges' comments or keep it the same. Once they receive the prompt, students start by researching it in-depth in order to find an idea for their pieces.
"I started by reading the book, 'Willy Wonka and the Chocolate Factory,'" senior Paige Woelke said. "Then I researched Roald Dahl's life who is the author of the book. I [was] just really trying to find inspiration from his life and why [the book] is the way that it is."
Even though no one else placed, her friends were excited Cantu won first place during her competition. Before receiving the prompt, Cantu started working on this year's piece the day after last year's competition. Whether it was researching or trying to figure out proportions, she was determined to do her best.
"I am so proud of her," Woelke said. "People don't even realize how hard she worked on that. It doesn't even matter that I didn't place because my best friend did. Anna has been working on this contest for three years. Now, she's gone to state three years in a row [and] to see all of that hard work be recognized by other people is really satisfying and I can't even express how proud I am."
While looking forward to next year's competition, junior Kaylie Davis plans to be able to understand the next prompt so she can improve on her score.
"I have learned no matter how hard you try you won't always get to get where you want to go but you always have next year," Davis said. "Next time I will spend a lot more time researching and reading the play because I didn't really grasp the theme of this one too much and so I think that really threw me off."
Leave a Comment