Learning to win gracefully
Art teacher Eric Champion gives back to community in unexpected way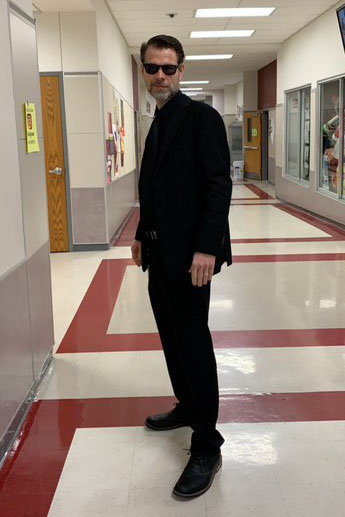 A sense of accomplishment entered him as he looked at the $20 he had won. Unlike others, he didn't want to use the money for his own personal desires. Instead, he told his opponent to keep the money in exchange for him to buy canned food and donate it to people in need.
On Friday, Nov. 8, art teacher Eric Champion dressed up for Black Out Day in order to participate in anatomy teacher Kelly Lancaster's competition to win the spirit cone for a prize of $20 to see who could receive the most likes on Twitter. Lancaster added the bonus this year to the spirit cone to spice up the competition to see if any male teacher could beat him, as he was confident no one could. In the end, Champion won and had Lancaster use the money to buy canned food for "Stuff the Pantry."
"Lancaster sent out a powerpoint to us [about the food drive]," Champion said. "I used that in my class [to] inspire people to bring [canned] food; that's really cool that he did that. When I won, I told [Dr. Lancaster] to get more cans."
When Champion declined the money and told Lancaster to give the money to the less fortunate, Lancaster thought this was a humble gesture that Champion was doing for the community.
"I think Mr. Champion was the epitome of a graceful winner," Lancaster said. "He didn't brag about beating me, try to put off that he better than I was. He knew he didn't need that money and he knew he was willing to give it to those who needed it. I think it was a fine example of his character."
Senior Jordan Zimmerman has known Champion since her freshman year. Since then, he has been an important part of her life as she has also formed a friendship with his youngest child. With this occurrence, Zimmerman has gotten closer to Champion.
"It's always good to give back to the community," Zimmerman said. "It's definitely not out of character and is something I expected him to do."
When Champion goes to the grocery store, he attempts to buy extra cans whenever he can to give to people in need. Although, he isn't able to give back to the community as much as he would like to, due to his busy schedule as a teacher.
"I should [give back] more, especially with things that are easy," Champion said. "I go to the grocery store every week and I pick up some extra cans. I use this and I have a pantry full of food and some that I bring in here."
Throughout it all, Champion wants to encourage everyone to give back. Even in the slightest way possible, he hopes people realize every bit of kind gesture is appreciated.
"Helping is always good," Champion said. "Sometimes we start to help and it's like it's not doing any good. Even if it's one can, it's someone's dinner. Someone's not going to go hungry one night because you don't eat one thing. And the things you give, even the things you share or donate, whether it will be your time or your objects, it's something nice. Those things you do are never wasted. It doesn't have to be a grand gesture, little gestures are great."
Leave a Comment